---
Live UltiPro Webcast Demonstrations
Focused on Benefits Administration and Benefits Prime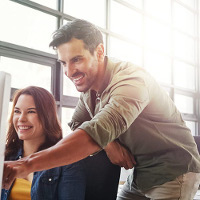 It's that time of year again at many organizations: Time for the dreaded performance reviews! As your managers and employees attempt to look back at the work that was accomplished over the past 12 months, you may be wondering how you can transform the performance management process from a stagnant, sleep-inducer into a dynamic exchange that will help grow employees and your organization. The answer is simple: by implementing powerful performance management software.

Join us on Thursday, October 8th or Thursday, October 22nd, for a live online demonstration of UltiPro, where you'll see how to:
Organize all of your people records in one place
Provide significant insights into the performance of your workforce
Use social media tools in our software to make performance management an ongoing, collaborative conversation among managers, direct reports, and even coworkers
On October 8th, you'll get firsthand customer feedback from Jack Klott, vice president of human resources at Independent Bank, a Michigan-based subsidiary of Independent Bank Corporation, providing a full range of financial services, including commercial banking, mortgage lending, investments, and title services.

Sign up now for either webcast, and we'll send you a recorded version of the demonstration after it takes place. We look forward to seeing you on October 8th or 22nd!