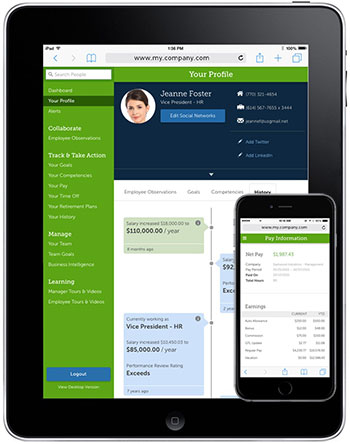 UltiPro Mobile — How Your People Want to Work
UltiPro Mobile instantly delivers important people-related information and tools in a simple, intuitive, and engaging experience—all on your employees' preferred devices. UltiPro Mobile instantly delivers important HR and Payroll information that is conveniently available via any HTML5-compatible smartphone or tablet browser, and there's no need to download anything.

Simply log in using your current UltiPro security credentials, and the platform automatically recognizes the request is coming from a mobile device and seamlessly displays information and functions to match your device's screen size.
UltiPro Mobile empowers managers to stay connected and engaged with their team members no matter where they work. Dashboards consolidate your team's information and provide real-time visibility into talent data, such as goal progress and peer feedback.
With UltiPro Mobile, employees and managers can easily take immediate action while on the go.
Record the achievement of personal goals or competencies
View current pay information and pay history
Browse a visual timeline of work history, including performance reviews as well as job and salary changes
View and change retirement contributions
Submit paid-time-off requests and view approvals
View contact information and connect directly to Twitter and LinkedIn profiles
Clock in/out for shifts with UltiPro's time solutions
Delivering an easy-to-use experience, UltiPro Mobile enables your people to quickly and easily access the information and tools they need in a way that works best for them.
---