Mobile HR Software
UltiPro Mobile App — How Your People Want to Work
Giving your employees instant access to important work-related tools and information can not only save them time, but it can also increase their engagement and overall productivity. With technology always steering toward convenience, the UltiPro® mobile app helps organizations meet the needs and expectations of today's workforce to ensure they stay productive at work, in the field, and on the go.
Available via the Android and Apple app stores, the UltiPro mobile app provides convenient experiences for both managers and employees alike. You can take action instantly, with real-time data synchronization and ensure your information is secure with built-in encryption and user authentication.
View a graphical breakdown of paychecks and year-to-date earnings
Better understand changes in pay, with UltiPro's Pay Insights
Quickly clock in and out, view timesheets and schedules, and request time off
View and explore the company organization chart
Stay connected with co-workers—call or email colleagues directly from the mobile app
Access important tax forms for faster tax filing
Receive alerts for suggested Leadership Actions, based on upcoming employee events
View and update progress on goals and competencies
Receive requests instantly via push notifications and easily review and approve/decline requests from the mobile app Inbox
Click here to watch a 2-minute tour of UltiPro mobile app.
UltiPro Mobile App
Product Tour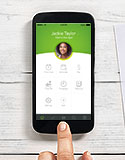 The UltiPro mobile app offers employees secure access to important information and tools from anywhere . Learn how your workforce productivity can improve.
Watch Product Tour