Back to Human Capital Management Solution Tours
Product Tour:
Powerful, Flexible, and Simple Payroll Software
UltiPro's payroll software isn't just convenient, it can transform your business into a more productive, efficient company.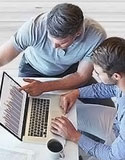 Ultimate Software's UltiPro® delivers payroll software that's designed to offer you the flexibility and control needed to easily run payroll in a way that suits the needs of your organization, and, most importantly, ensures your people are paid accurately and on time—every time.

UltiPro's award-winning payroll software is:


Fast: UltiPro calculates ~200,000 paychecks per hour
Powerful: You get unlimited processing of payrolls, with the ability to make adjustments at any time
Convenient: Instant access to important information via any computer or smartphone
Secure: UltiPro offers role-based access, supporting the desired controls and security you need
Compliant: Out-of-the-box compliance that is automatically and continuously updated
Fill out this brief form to discover how UltiPro's payroll software can transform your business.