Work for a company that truly values
its
People

by putting them

first

.

At Ultimate Software, we believe that people are the most important ingredient of any business. It's the people who ultimately determine what can be achieved. That's why creating a culture based on trust, respect, and inclusion is our top priority. We encourage our people to always reach higher, learn more, and live up to their potential, delivering our customers the best global human capital management solutions possible.
Communities of Interest
U Belong is Ultimate's diversity, equality, and belonging program dedicated to ensuring all employees continue to feel safe and welcome bringing their whole selves to work. Formally launched in January 2019, U Belong builds upon the foundations and principles of Ultimate's longstanding diversity practices, working with leaders across the company to develop a comprehensive diversity program and support system to better serve Ultimate's employees.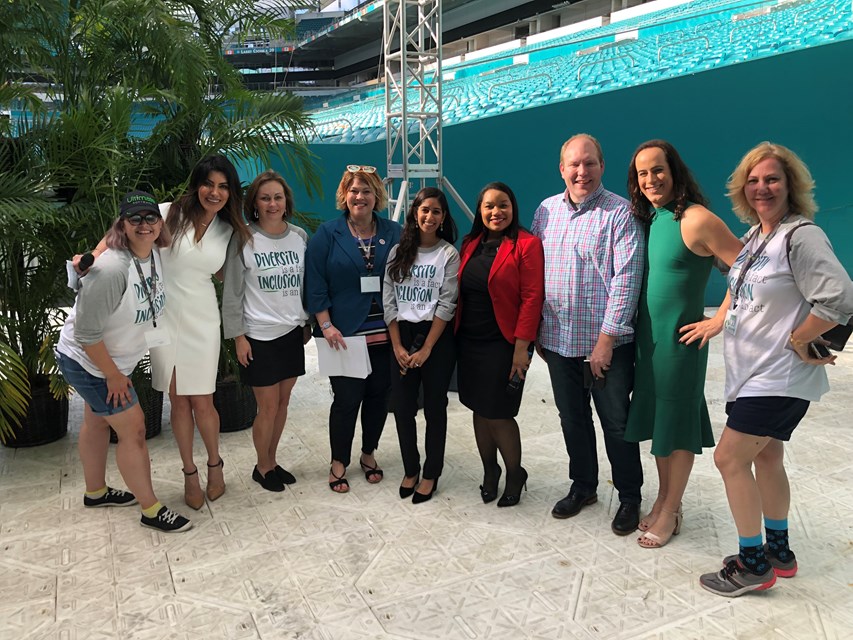 Benefits
100% Employer-Paid

Health Coverage

(for employee and family including same-sex legal spouses and children up to age 26)

401(k) Retirement Savings Plan

(45% match per dollar of contribution)

Unlimited Personal Time Off

(for all exempt employees)

Paid Maternity/Adoption

(leave - 10 weeks 100% paid)

Paid Paternity

(leave - 4 weeks 100% paid)

Adoption Financial Assistance

Restricted Stock Units

(granted to full-time employees)

In Vitro Fertility

(treatment coverage)

100% Employer-Paid

Life Insurance

(match 1x salary/$10k spouse life insurance)

Child Sponsorship

(for extracurricular activities)

15 days Paid Time Off

on 1st Year

(for non-exempt employees)

Paid Service Days

(3 days per year/per employee for charity work)

Online Health

(wellness and work-life balance services)

Tuition/Certification
Reimbursements

100% Employer-Paid Long-Term Disability

Credit Union
Perks
Ice Cream Truck Days

* Food Truck Days

* Farmer's Markets Onsite

Massages, Acupuncture, and Cupping Onsite

Meditation Programs

* Fitness Classes Onsite

Free Monthly Breakfast

Monthly Birthday Celebrations

Departmental Trips and Team Outings

Sponsored Sports Teams

Pet Services Discount Program

Subsidized Back-Up Child Care

Fitness Rewards Program

* Onsite Car Washes

Local and National Discounts

"Mommy's Rooms"

with Hospital-Grade Pumps

Charity Event Sponsorships

Flexible Spending Accounts
* Represents Headquarters-Specific Perks
click to see Perks

Our Culture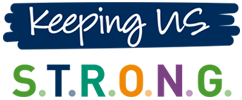 Humble
Service-Oriented
Giving
We believe in caring for all
people, providing great
service to our customers
and communities, and
always doing the right thing.

Knowledgeable
Innovative
Focused on Being Better
We are constantly
imagining new ways to
achieve our goals, and
inspiring one another to
create and deliver the best
solutions and services.

Passionate
Loyal
Persistent
We care committed in all we
do, passionate about our
work, and always moving
forward toward success.

Diverse
Inclusive
Sense of Togetherness
We are close, diverse
family working together in
harmony, and we are
always there for one
another.

Open to Change
Always Improving
Staying Positive
We are flexible and agile
as we grow and improve,
and we are constantly
learning, trying new
things, and challenging
ourselves.
Kind
Helpful
Grateful
We are honest, authentic,
and true to ourselves and
good to the people around
us, and we have
fun—together.
A Day in the Life
---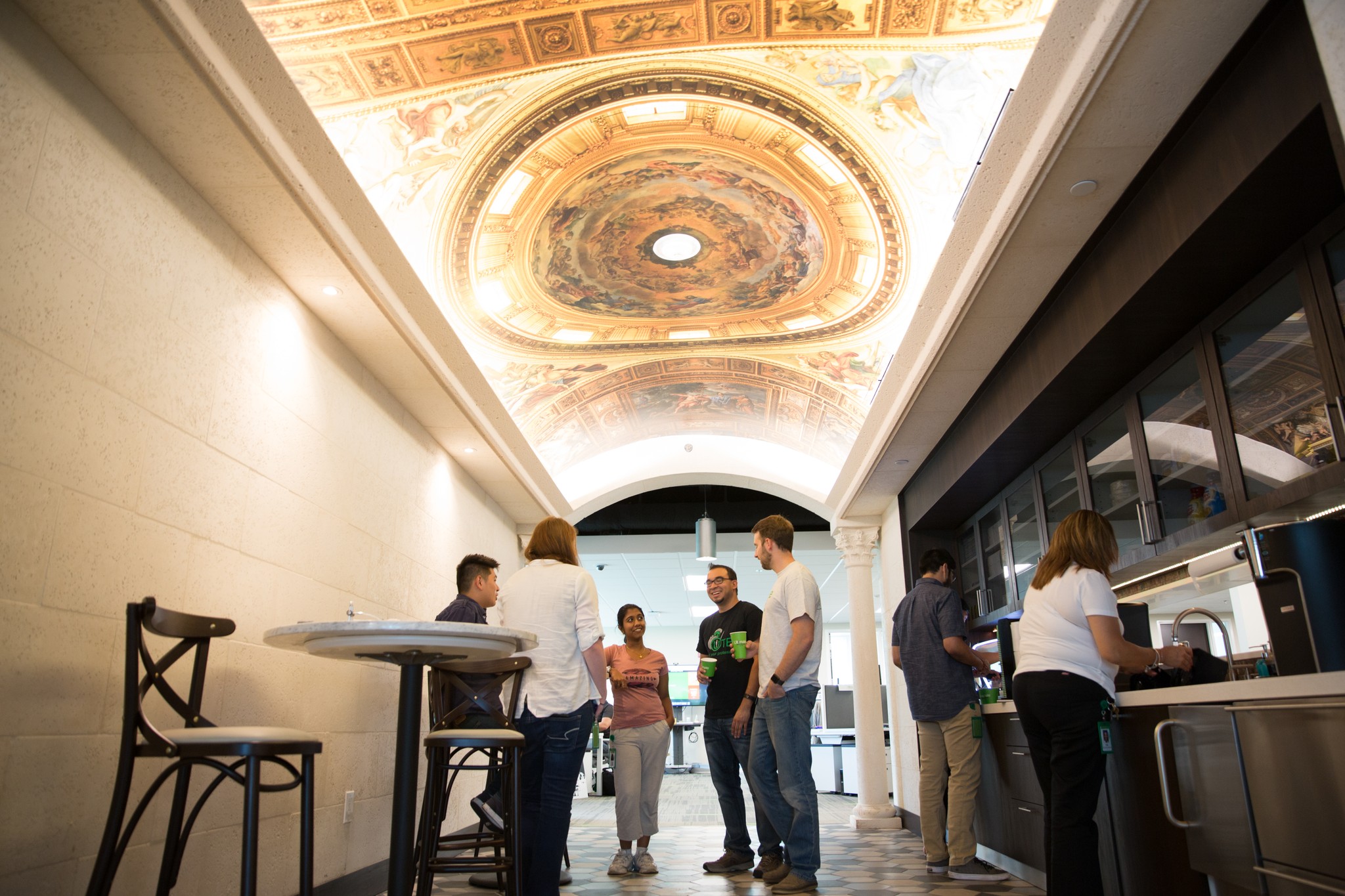 But First, Coffee
Mornings usually start with caffeine in one of our many uniquely decorated coffee break areas.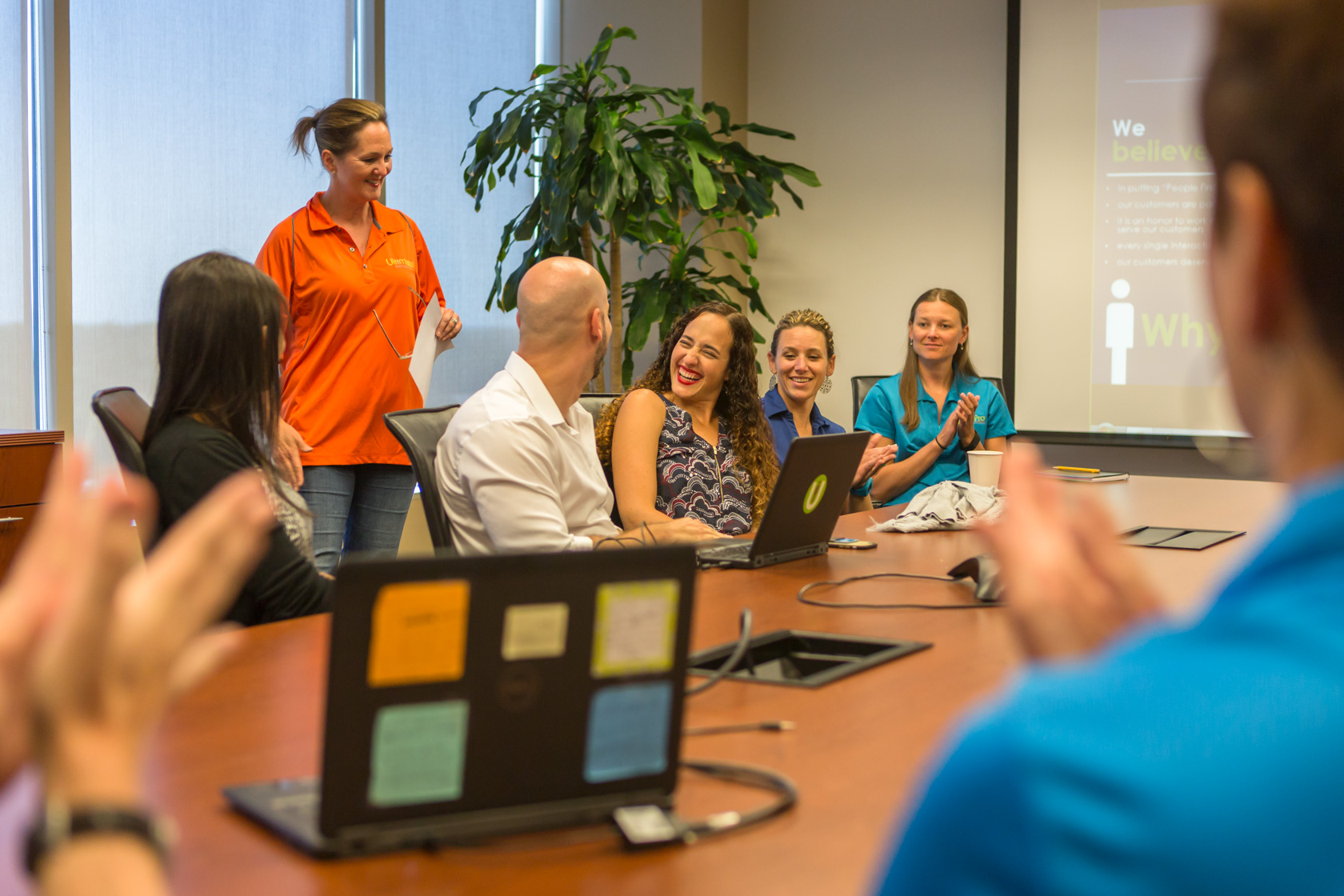 Team Meeting
Teams meet regularly to go over progress on projects, discuss any updates, and share newly learned tips to help everyone do their jobs more effectively.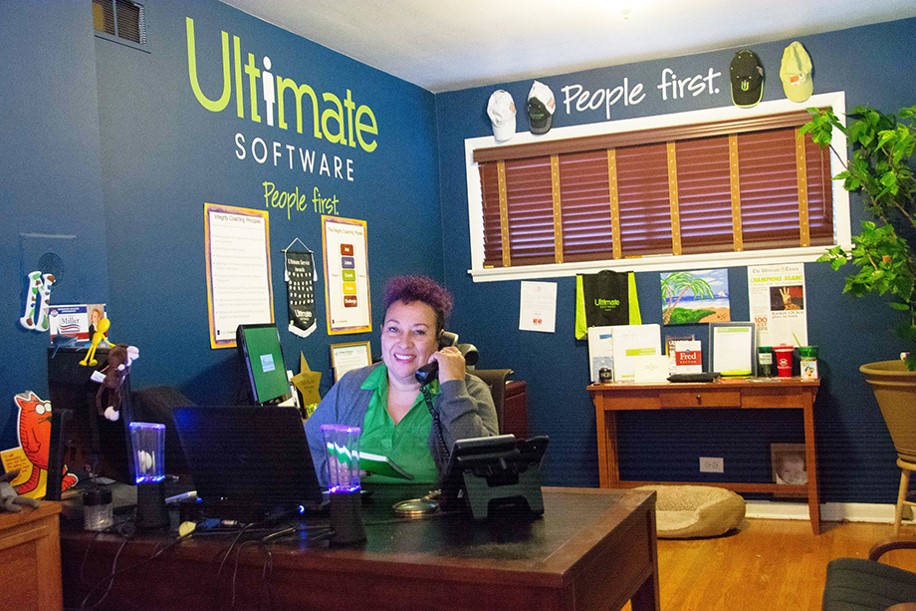 Focus Time
Employees know how to have fun, but we also know that hard work is needed to get the job done! P.S. - Did you know that about 40% of our employees work from home?
Lunch Time
Time to relax, eat, and catch up with your colleagues! We often have catered lunches, but you can also bring your own, or buy one of the healthy meals available in the cafeteria.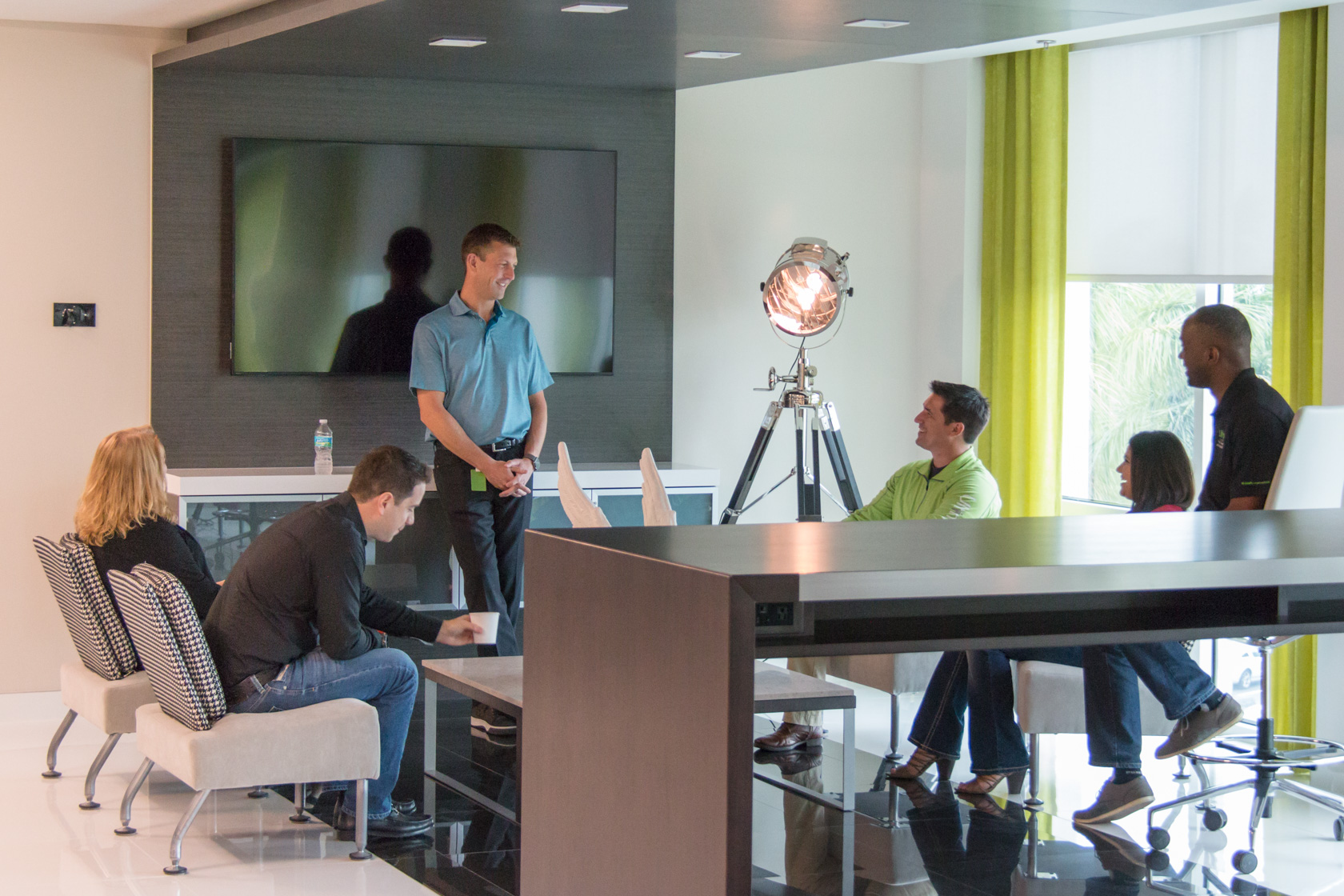 Client Meeting
Our customers are part of our family. We meet with them regularly to ensure they are utilizing UltiPro fully, and help them with any questions they may have.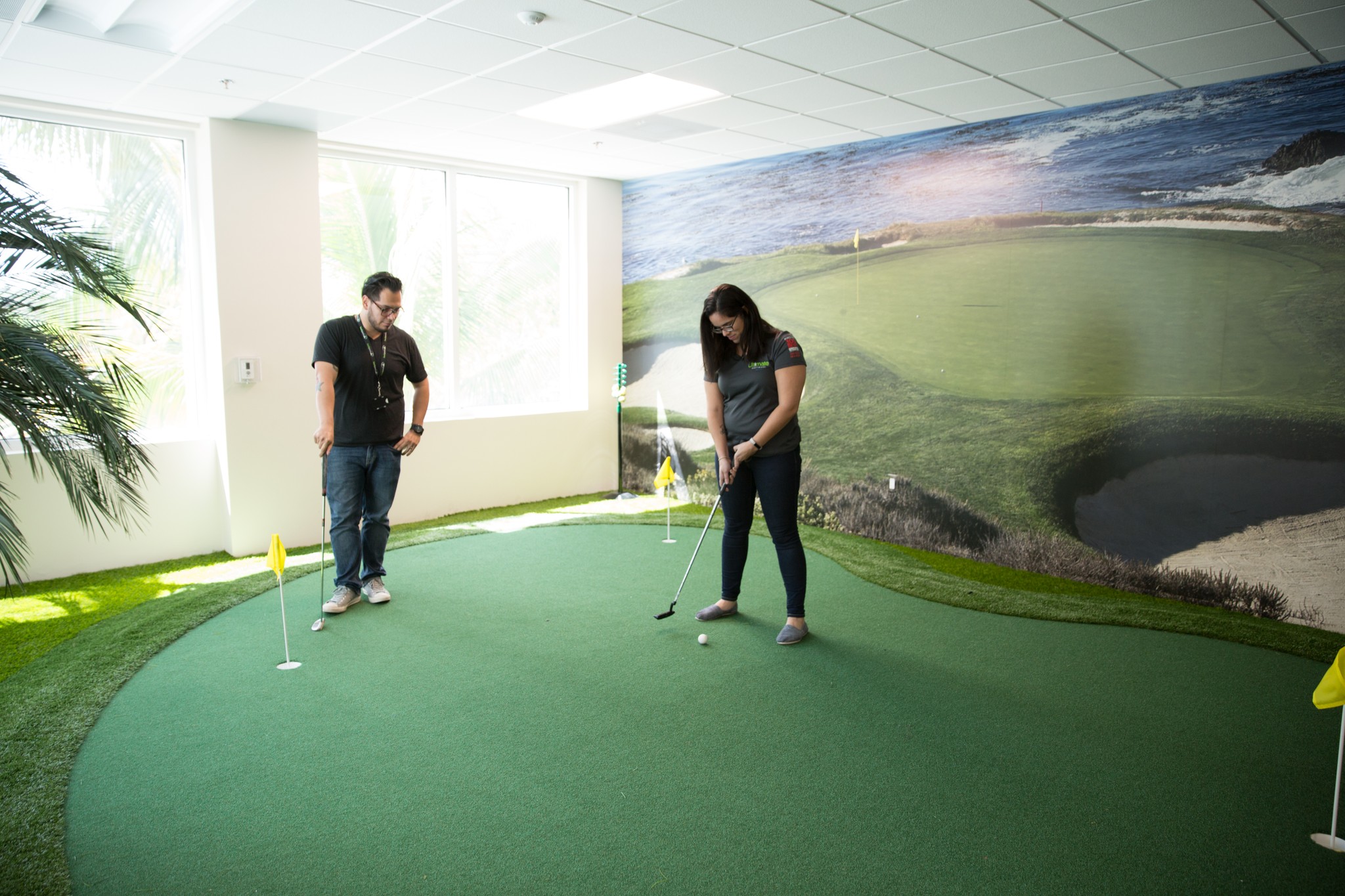 Work Hard, Play Hard
We have so many fun ways to take a breather at the office, such as a putting green, treadmill desks, and a fully loaded game room with air hockey, chess, foosball, and a poker table.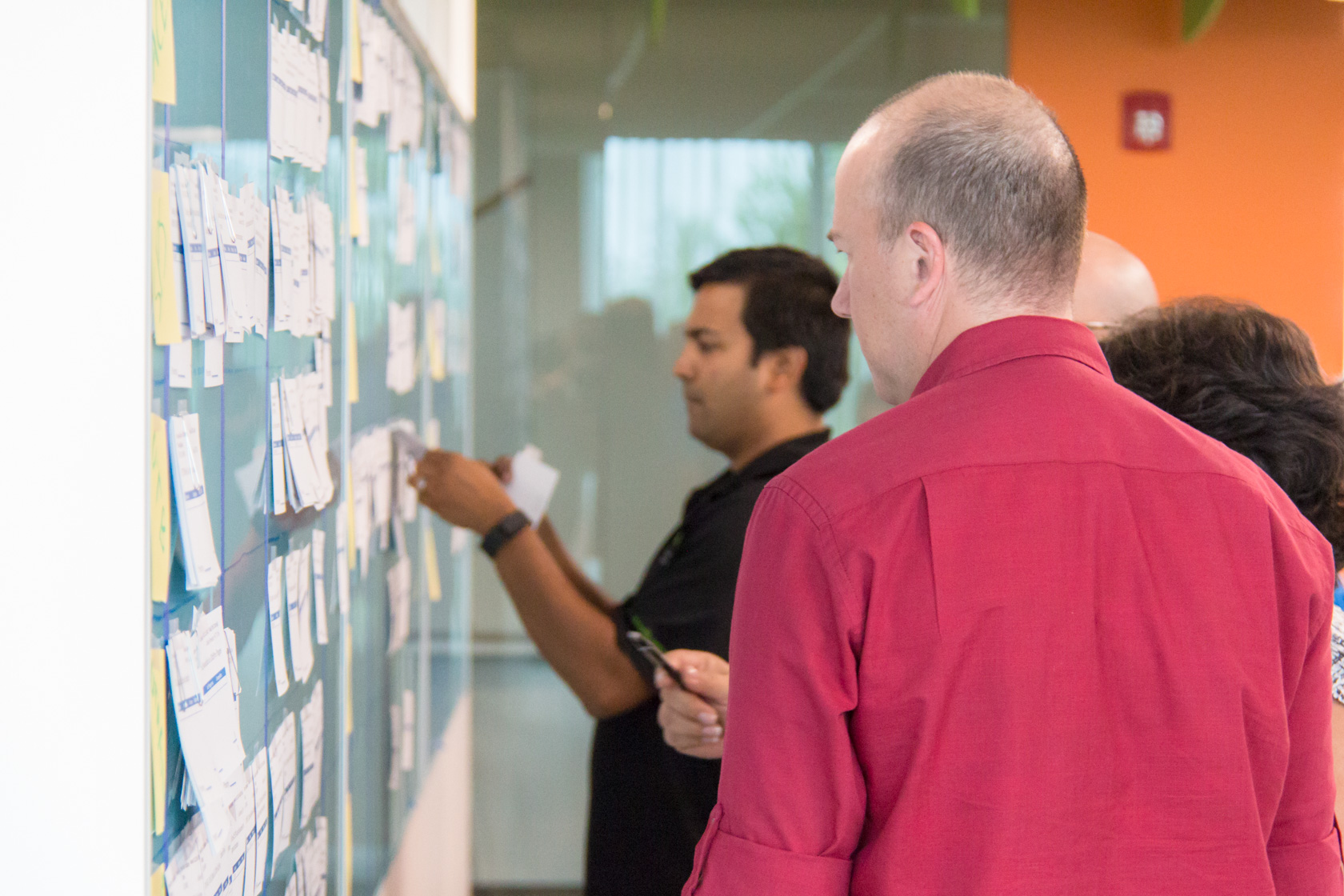 Collaboration and Innovation
Teamwork is extremely important to us. Throughout the day, teams are constantly working together to accomplish their goals.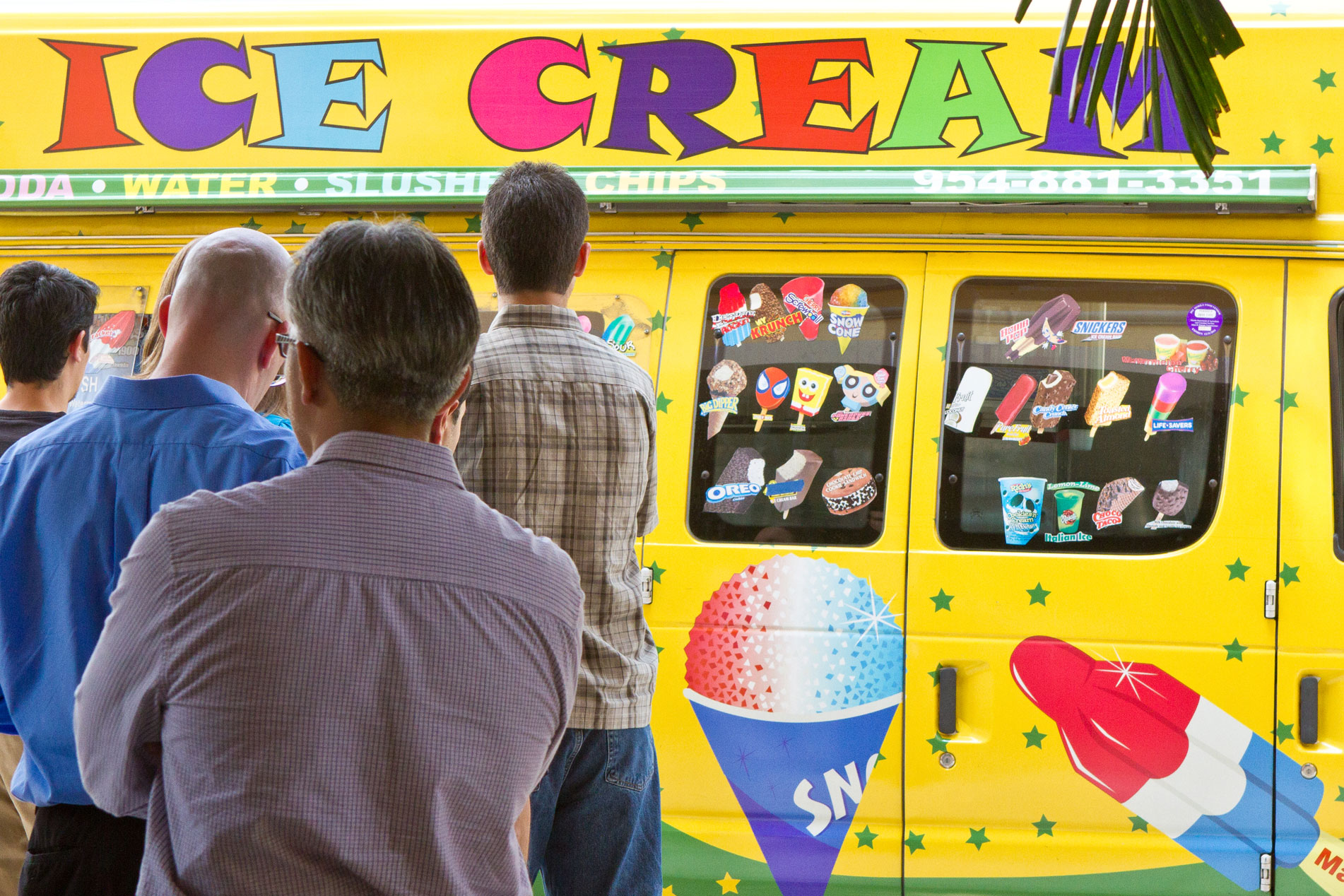 Snack Time
Once a month, we have free ice cream delivered to each office!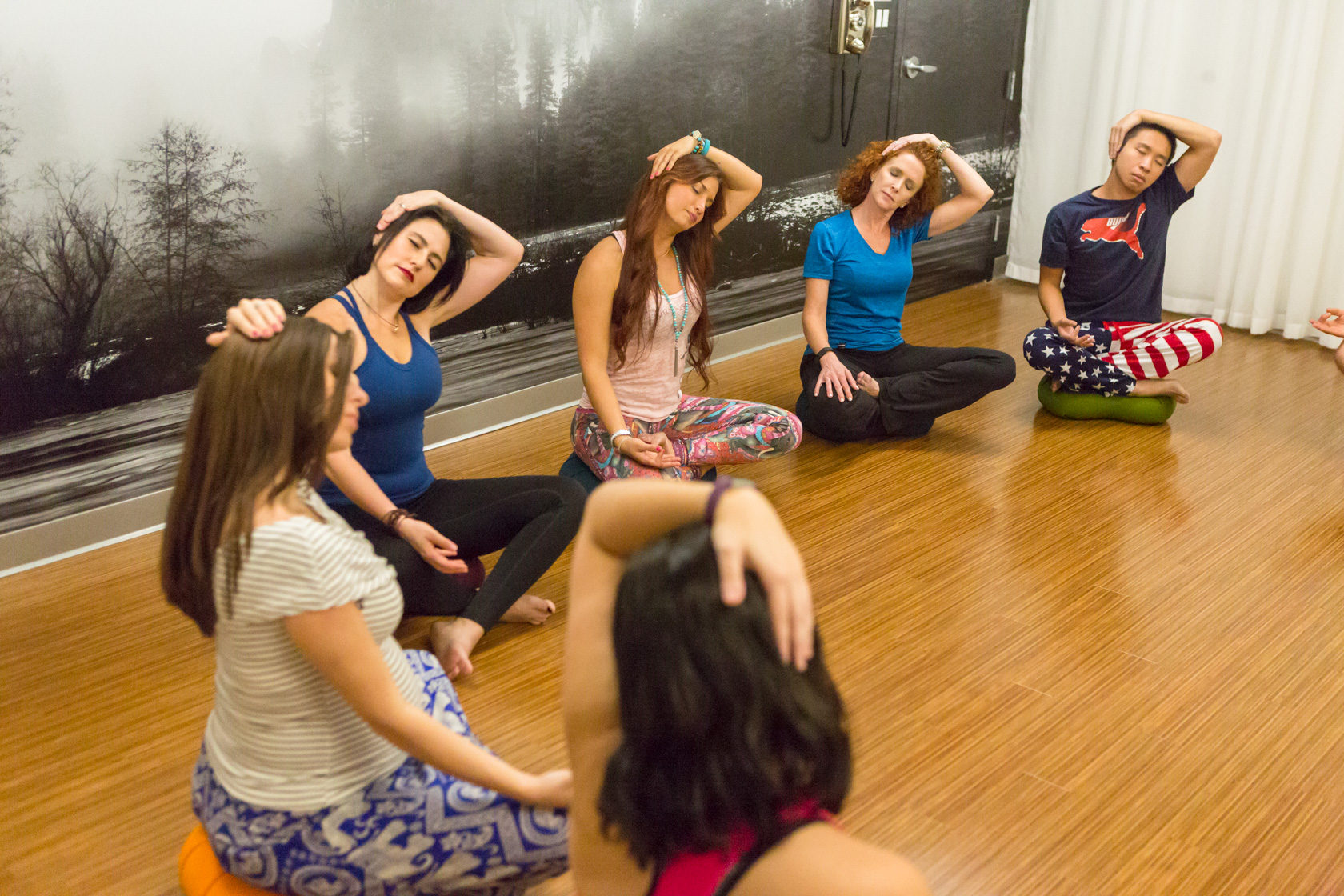 End Your Day
After a rewarding day of work, wind down with one of our free fitness classes onsite, like yoga!
Our People
Discover what putting people first means to US and our employees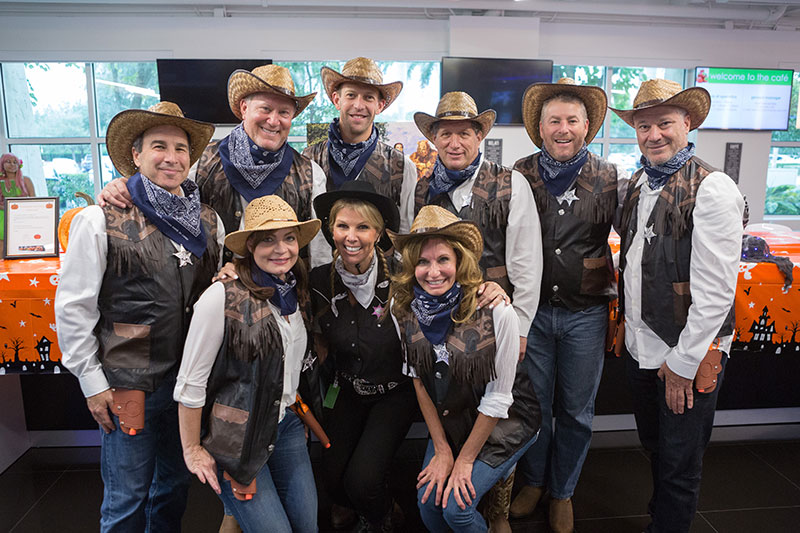 We take Halloween very seriously. Even our executives dress up!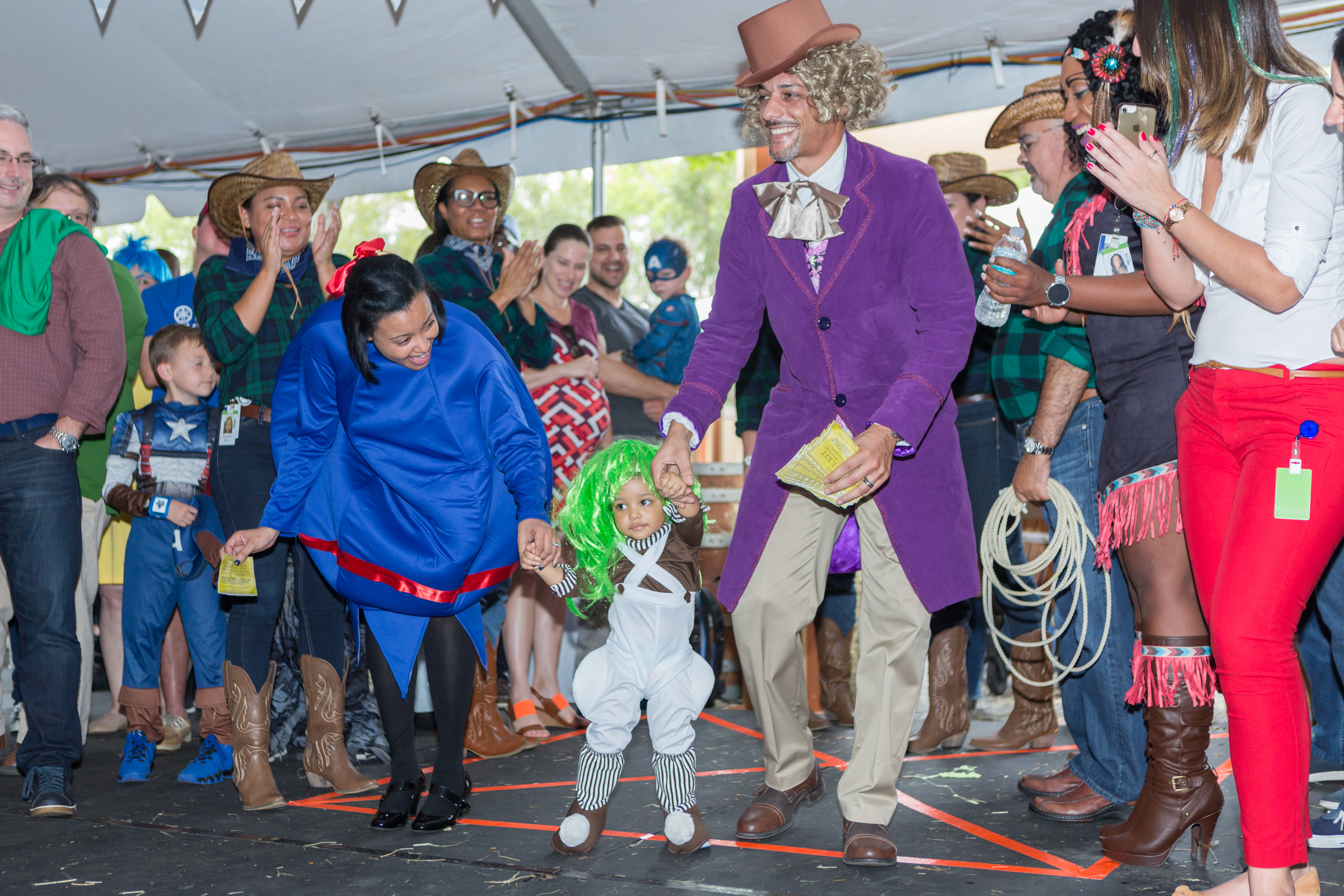 Celebrating at Ultimate is often a family affair.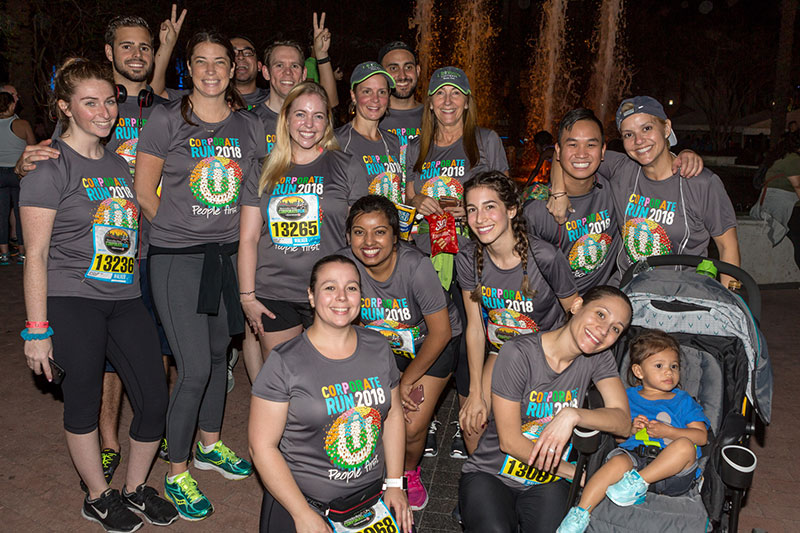 Employees have fun, both at work and in our community.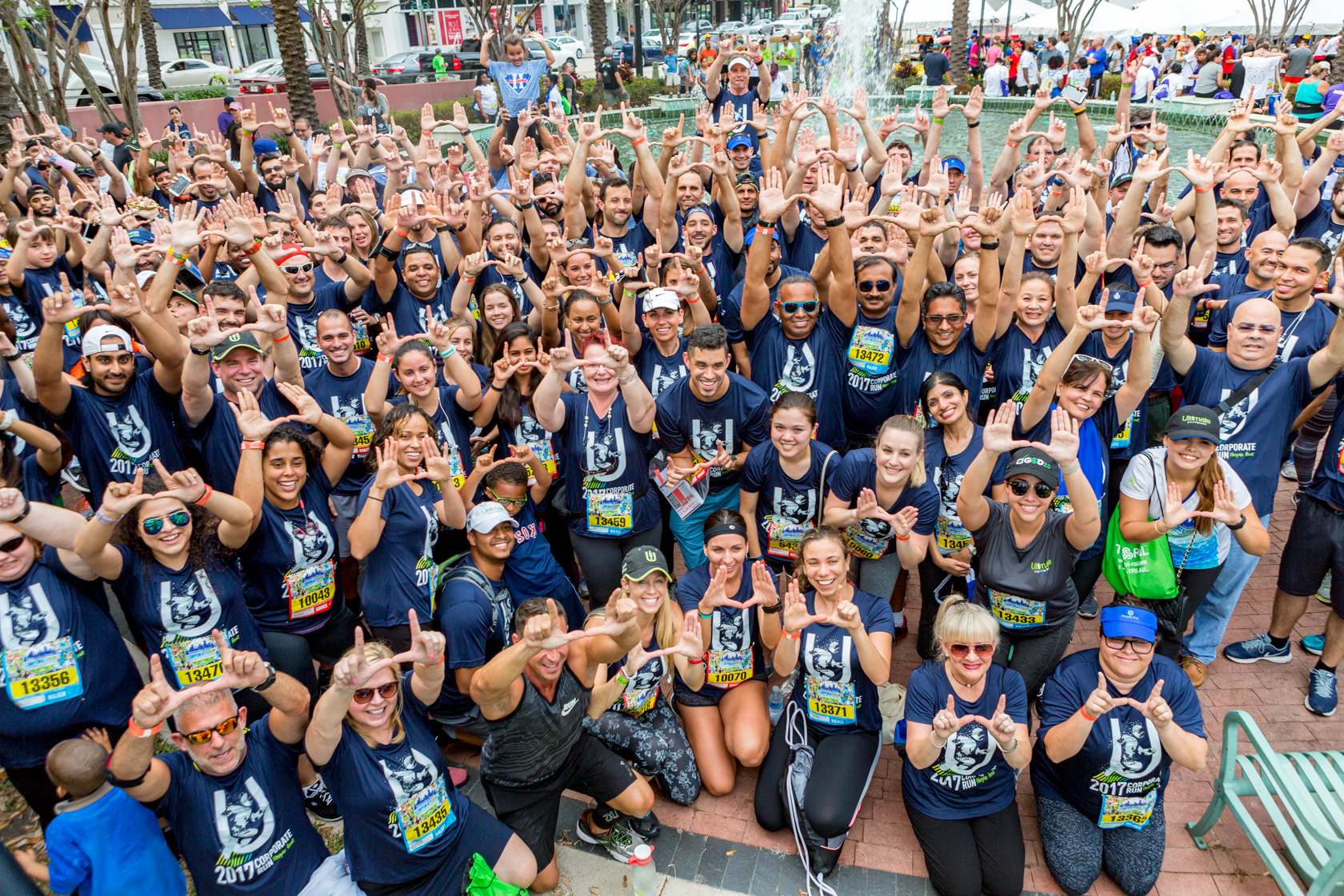 We have the largest team at the Corporate Run 5K every year.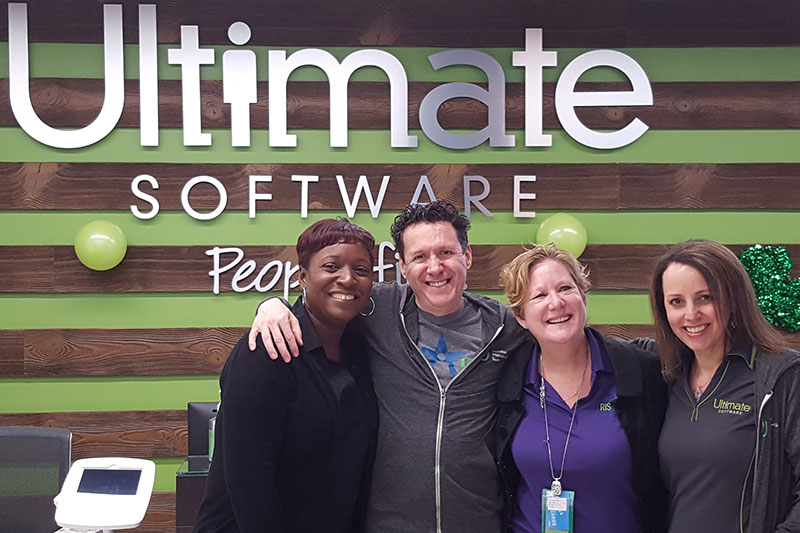 At Ultimate, we put people first—every day.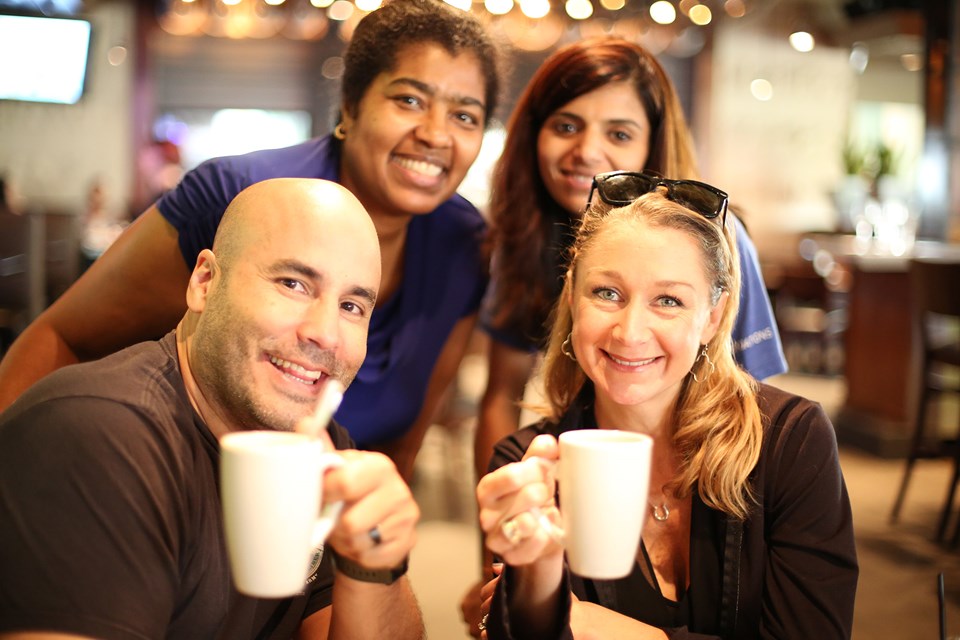 Our employees love grabbing coffee at our onsite Starbucks in Weston FL.
We believe that people are the most important ingredient in any business,
so here at Ultimate Software, we truly put our People First.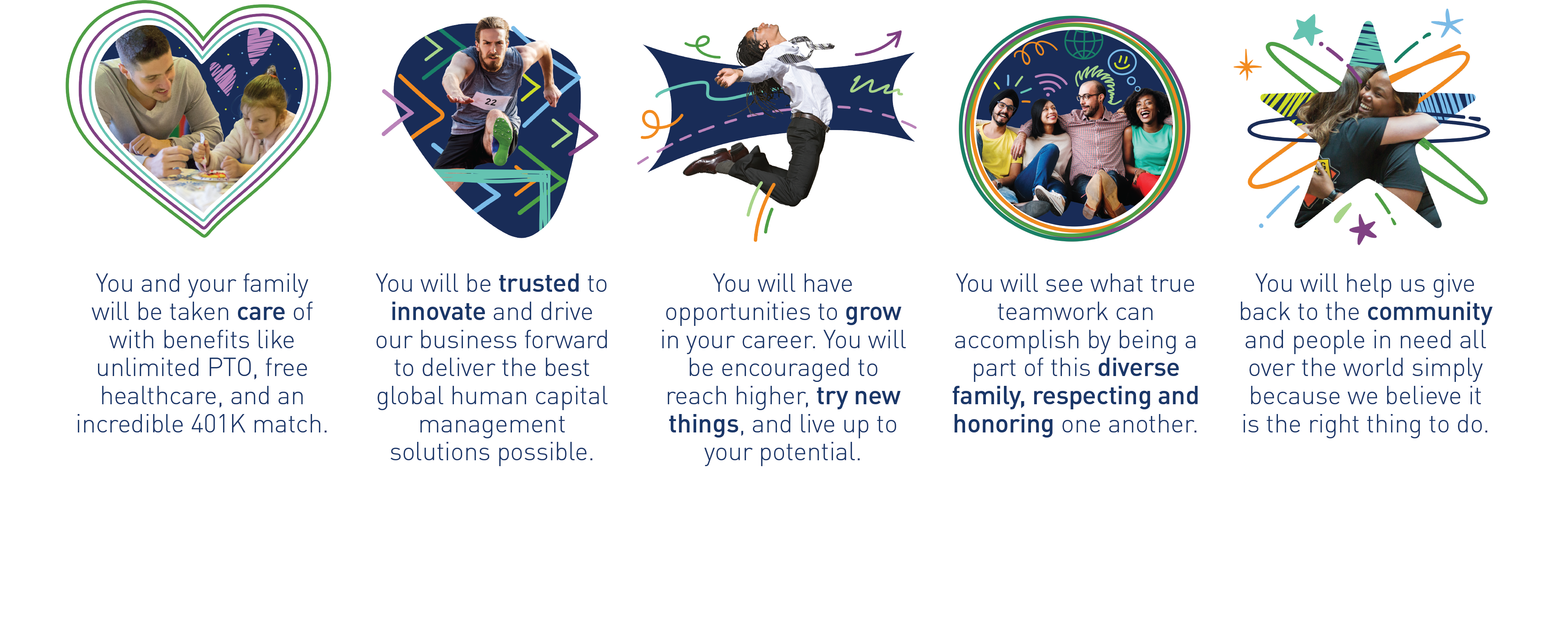 Teams
Our #PeopleFirst approach to human resources and payroll technology drives all we do. No matter your passion, you can make an impact here at Ultimate.
Beware of phishing or suspicious messages that appear to come from a trusted or known source and that asks for personal information, account information or requests that you send money to cover expenses associated with a job or otherwise. Ultimate Software does not ask for this information from our job applicants or candidates and never asks for any applicant or candidate to send money
People Development

---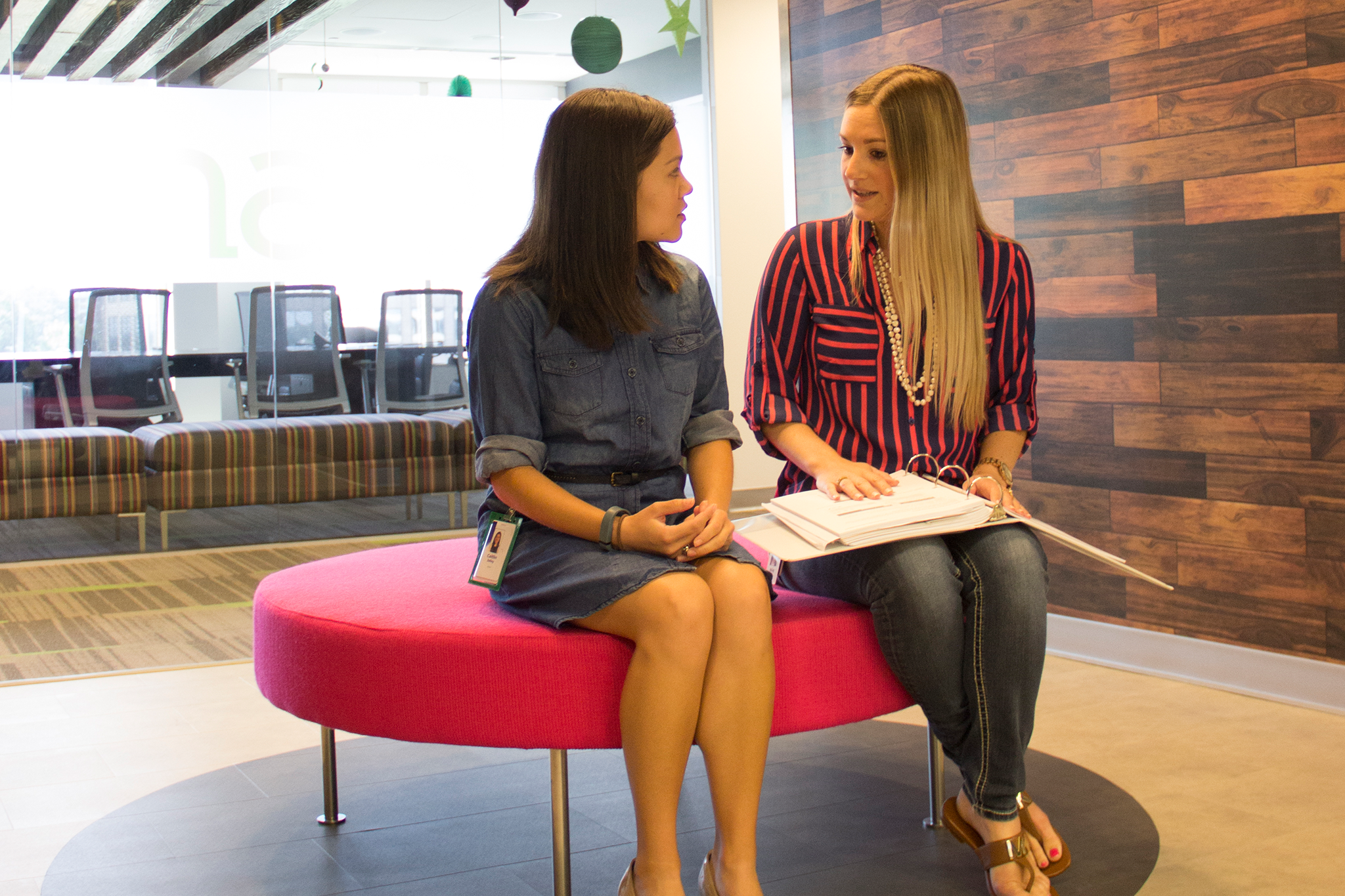 LeadUS is our comprehensive program created to develop managers into better leaders, and to prepare potential managers for leadership positions within Ultimate. The program explores diverse topics related to effective leadership while encouraging employees to better understand themselves and the people they serve.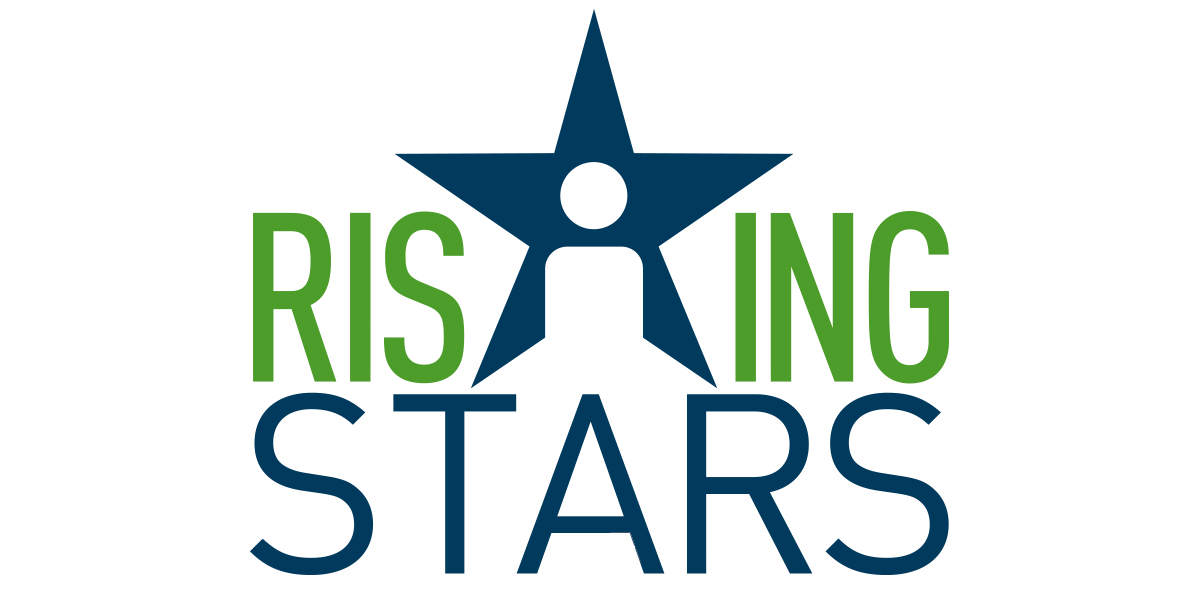 ---
Rising Stars is a structured training program that targets various roles within our Services organization. The program is designed to take employees from basic foundational product training to job application. Training is role specific, with tracks for our Customer Success, Consulting Services, and Payment Services divisions. Learn more here
---
Twice a year, we host a "48 Hours" code-a-thon, where everyone in Product Development & Information Services get two days to focus on their own projects. Teams present their solutions in a science fair-like showcase and pitch their ideas to a panel of executives. Awards are given out for the best solutions across several categories.

---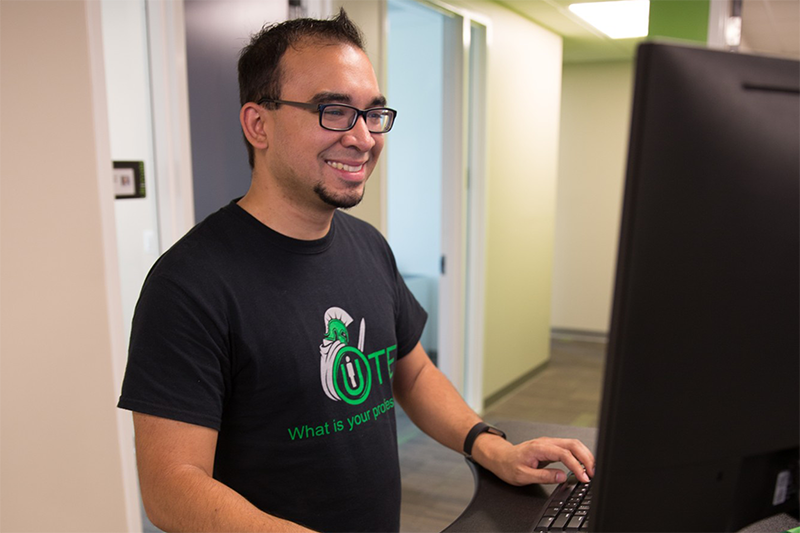 Hosted in our own product suite, the ULearn Academy is a revolutionary learning platform where we provide new hires with the content they need to get up to speed, fast. ULearn also delivers the resources employees will need to grow and thrive in their careers at Ultimate.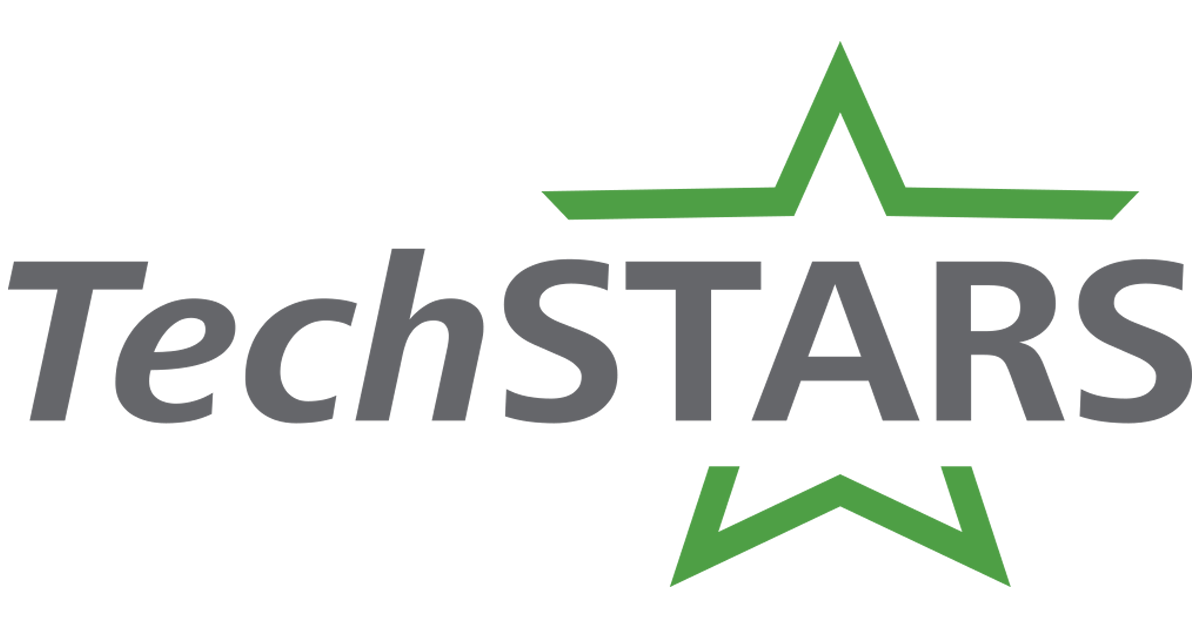 ---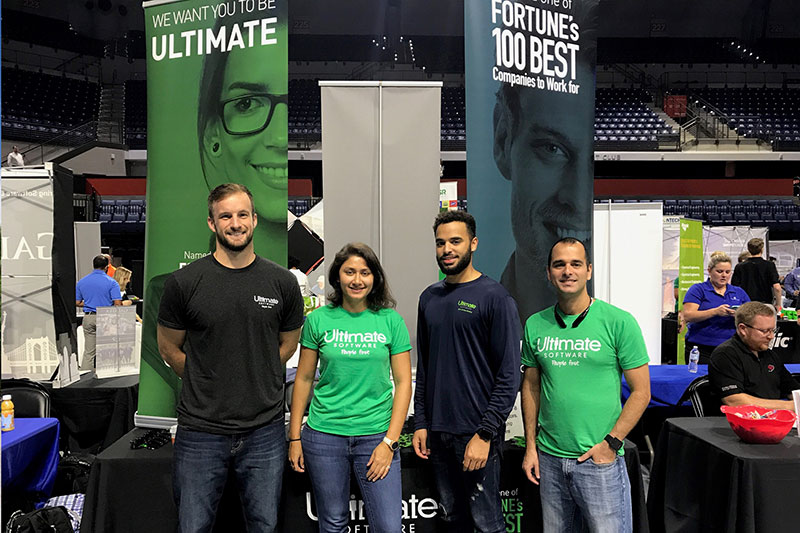 Our TechStars internship program provides aspiring developers access to intensive mentorship from senior engineers, including multiple opportunities to develop and expand upon their skills as technologists. Participants work on real product development projects that have a real impact on Ultimate's solutions and customers. Learn more about Ultimate Software's TechStars Internship Program.
Our Spaces
Designed to serve people, our workspaces make it easy to think, collaborate, remain productive, and have fun—from breakout rooms and themed cafés to booths with dry-erase tables and private rooms for making calls. Need a break? Enjoy our meditation areas, treadmill desks, game rooms, putting green, basketball court, and onsite Starbucks.
It's all part of Ultimate's core "People First" philosophy, with innovative, employee-centric workspaces that reflect our caring, companywide culture.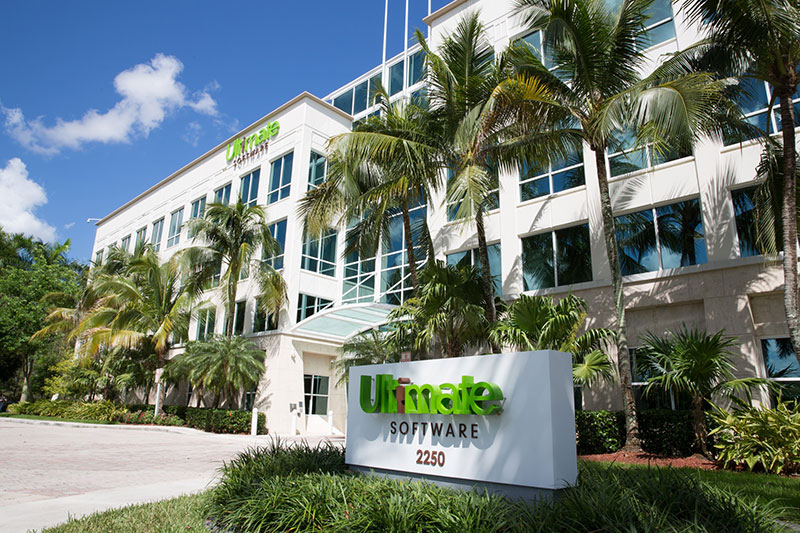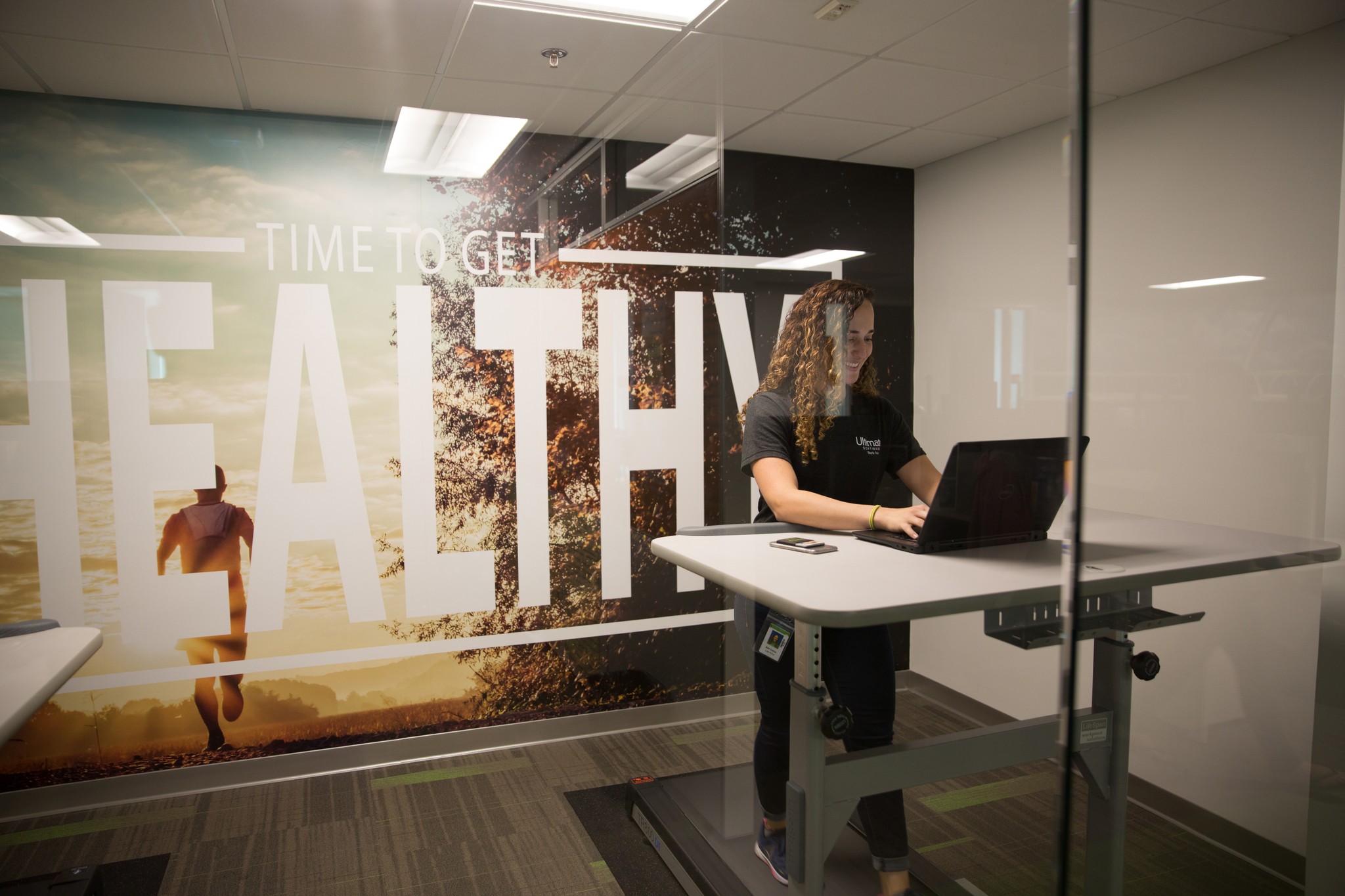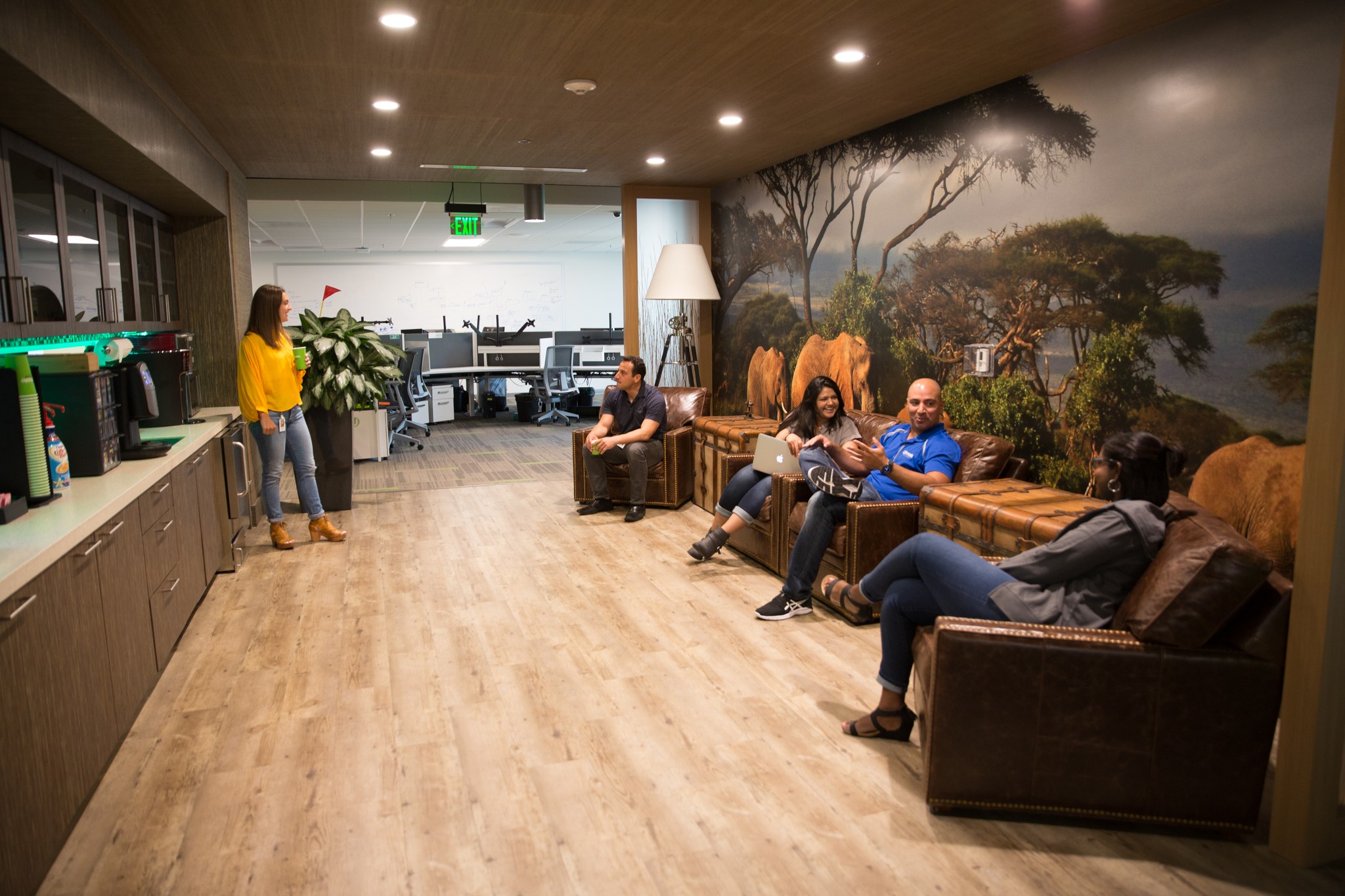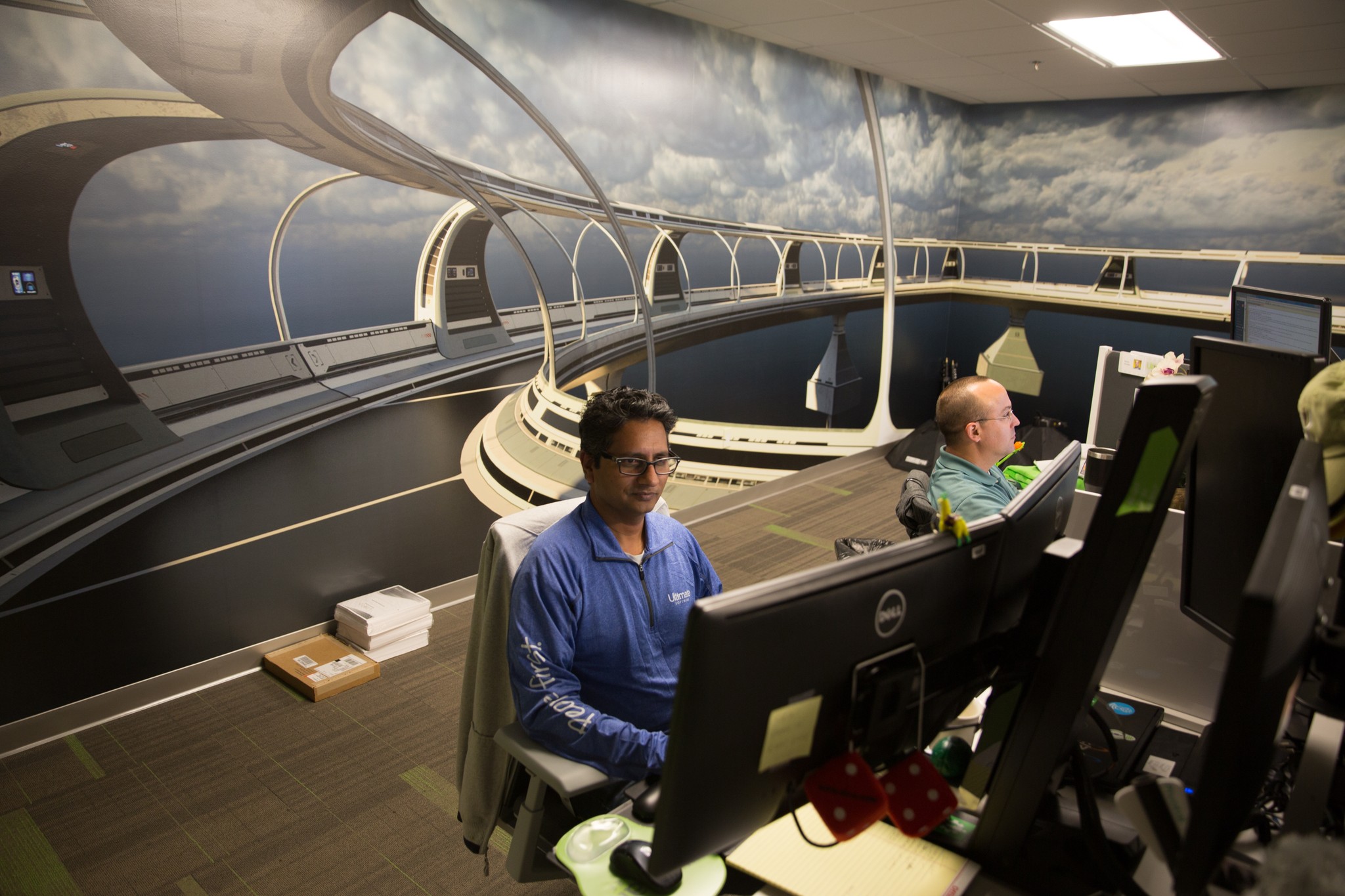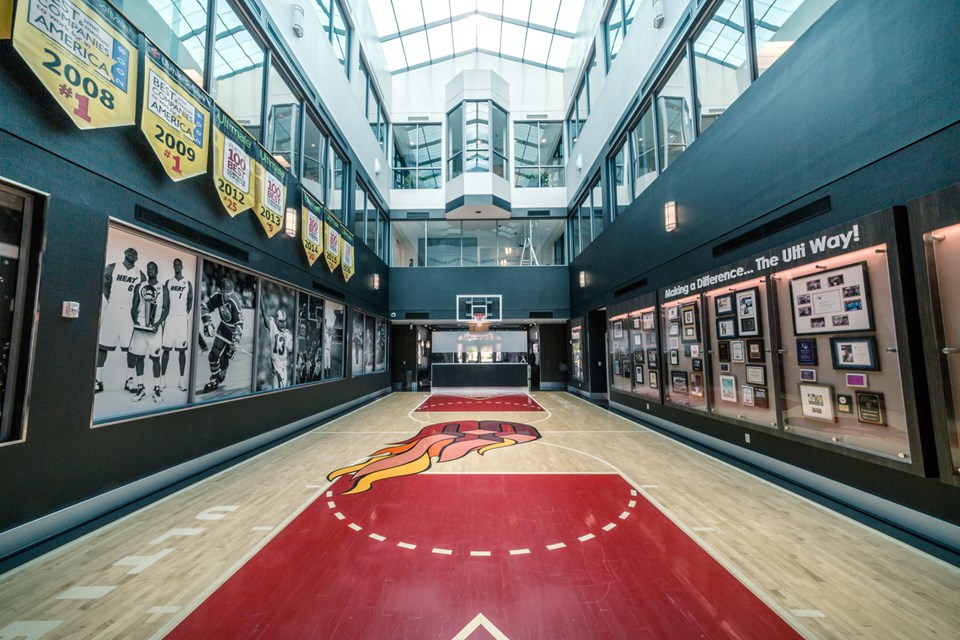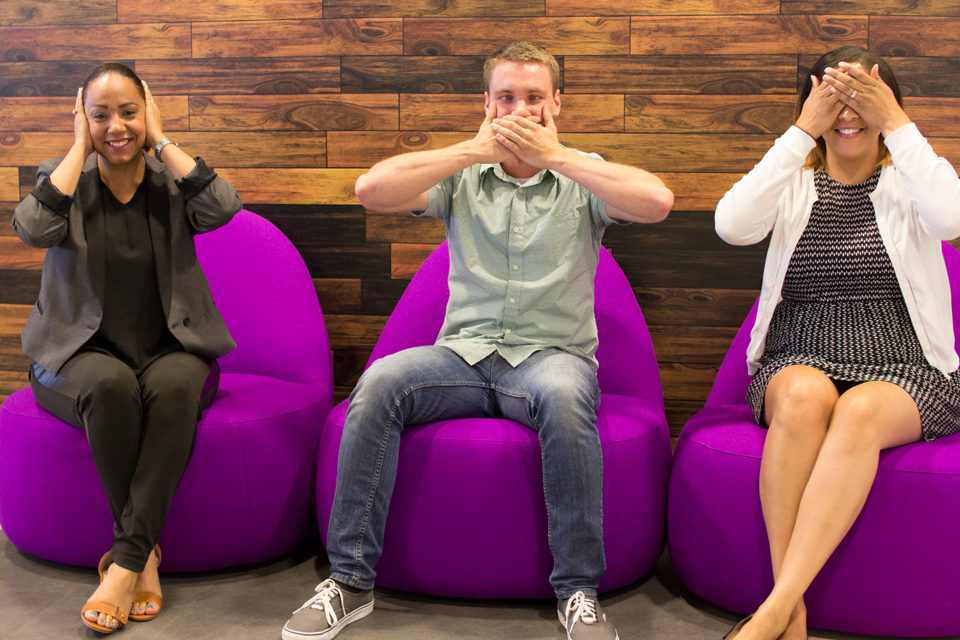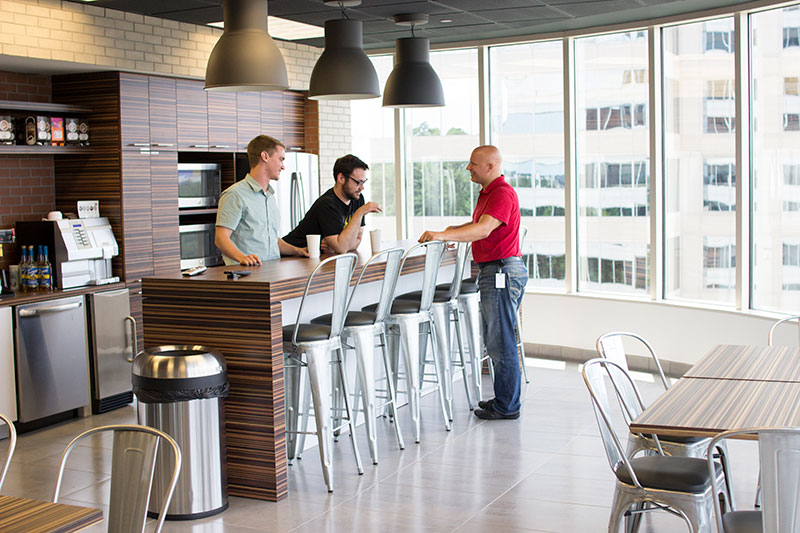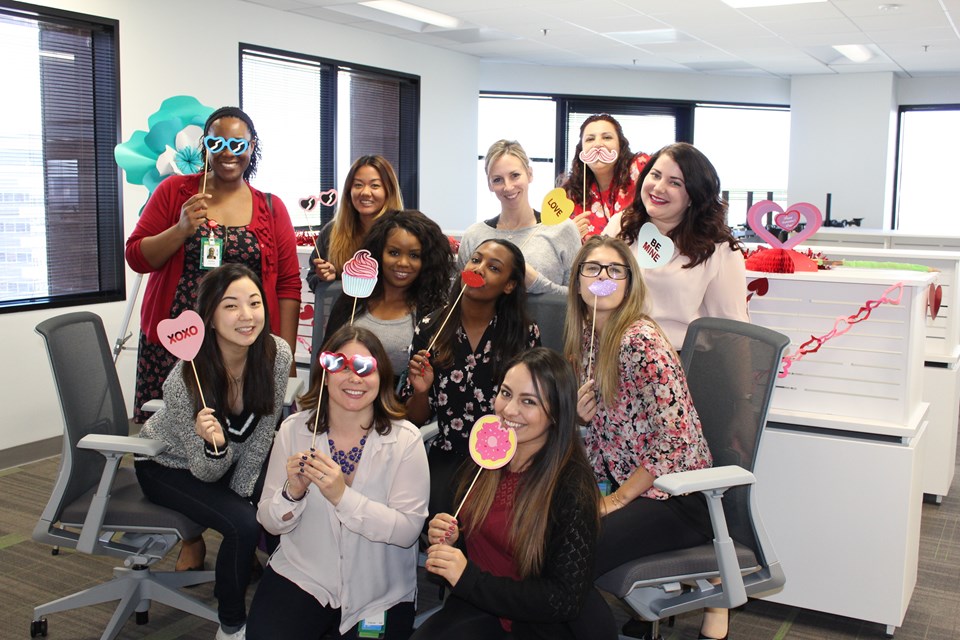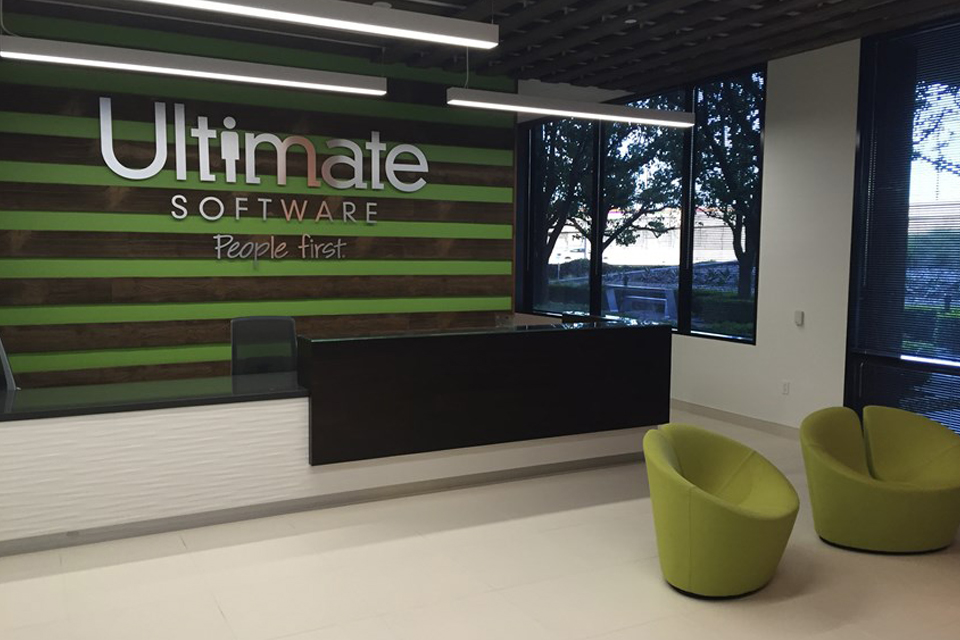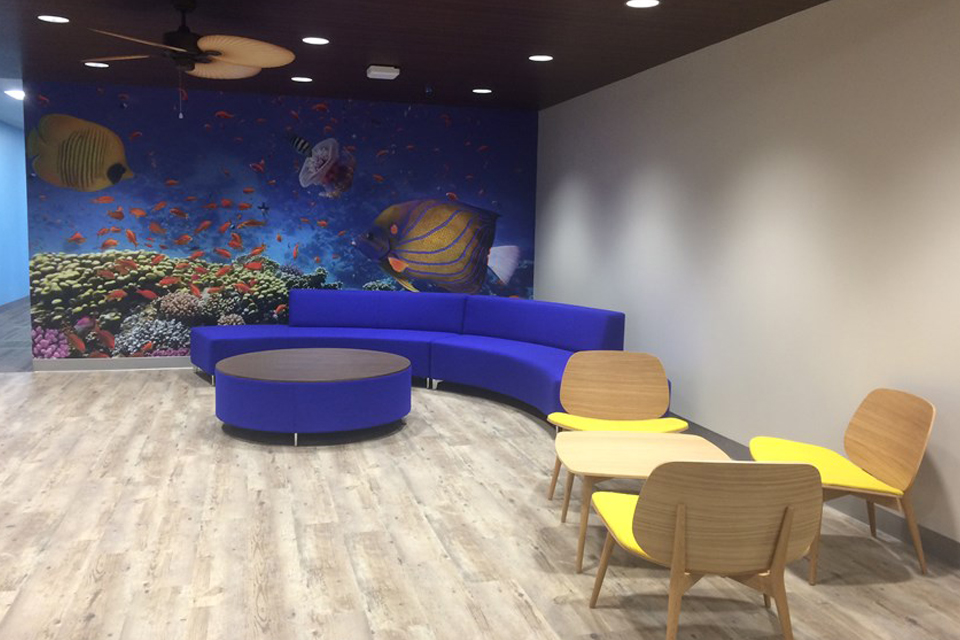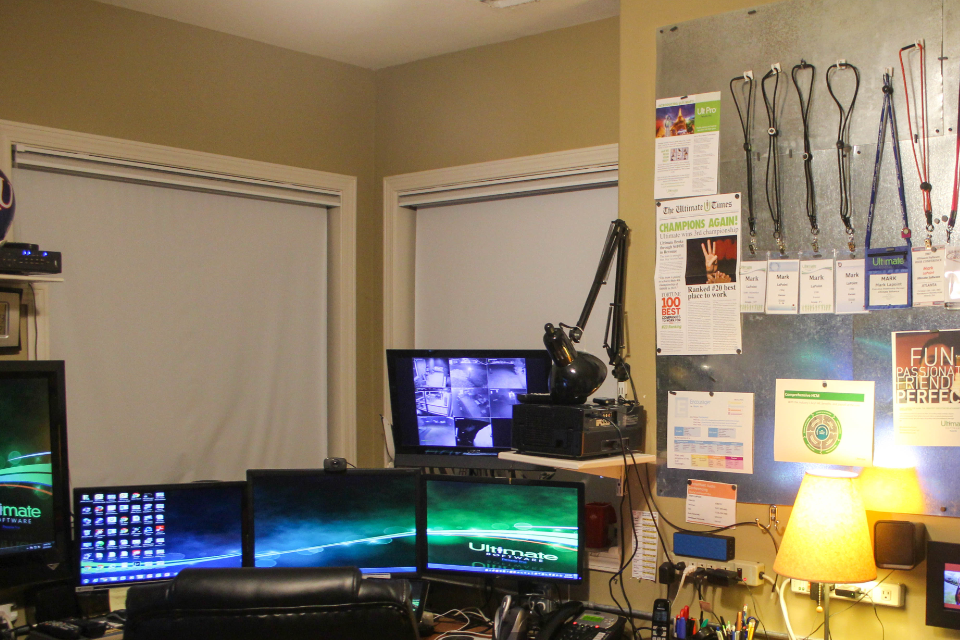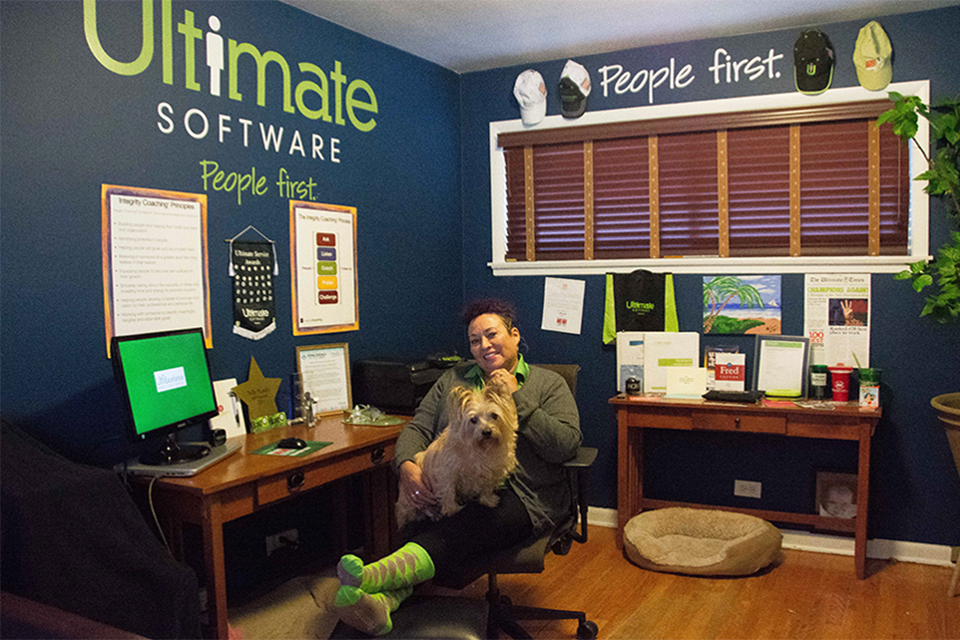 Explore Career Opportunities in Your Area
Check out what employees are saying
Some pictures on this site provided by

Ultimate Software Careers on Twitter.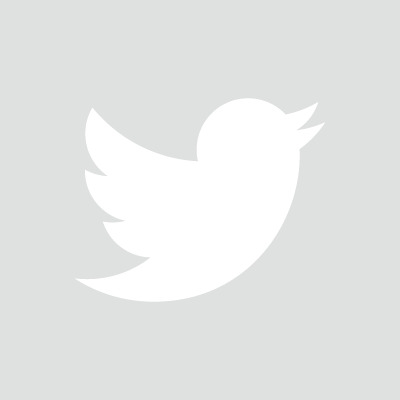 Learn more about our TechStar Internship Program.
Learn more about our EEO Policy