Talent Management Software & Systems
HR Talent Management Software Solutions to Engage and Develop your Workforce
Your organization needs to hire, retain, and develop the best talent in order to be successful and stay competitive. UltiPro's HR talent management software solutions can help you engage and develop your workforce through collaborative, easy to use tools.
You can drive a dynamic, social, and continuous performance management process for employees at all levels of the organization with UltiPro Performance Management. UltiPro can help you deliver an experience that goes beyond traditional, yearly reviews, identify high performers, and support employee career development.
With UltiPro Succession Management you can proactively build a talent pipeline for the future, support your people as they define career aspirations, and prepare their readiness to step into key roles.

Assess performance and gather feedback on an ongoing basis
Ensure employees develop the skills and knowledge needed for personal growth and contribution to your company's success
Understand retention risks and identify high-performing individuals
Create flexible, comprehensive, and executable succession plans
Empower your people to create personal development plans
Instantly view strengths and opportunities for improvement via UltiPro's embedded analytics
Strategic reporting and business intelligence tools, plus seamless integration with UltiPro HR talent management software and Payroll, means you can quickly and easily get the workforce insight you need to make smarter decisions regarding your talent.

UltiPro's Predictive Analytics tools harness the power of Big Data and can help organizations more proactively manage their talent with meaningful and unbiased metrics.
UltiPro Retention Predictor™ forecasts an employee's intent to stay with the organization for the next 12 months
UltiPro High Performer Indicator™ helps identify who top performers are in the organization
UltiPro High Performer Predictor™ identifies the likelihood of an employee becoming a high performer Check out our Predictive Analytics video to learn more.
Check out our Predictive Analytics video to learn more.
UltiPro
Talent Management
Product Tour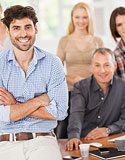 Discover Ultimate Software's suite of talent management solutions that can provide your business with the foundation to
engage and develop
your people.
Watch Product Tour