UltiPro HCM Services and Customer Support
In order to transform your workforce, you not only need leading HCM technology, but also the people and services behind it. Although service is often an under-considered component during the HR technology selection process, it is critical to long-term success. That's why Ultimate Software treats its customers as Partners for Life. Ultimate offers a range of specialized services to help you grow and transform your organization.

The Customer Experience matters, discover Ultimate's unique approach to support and services.
UltiPro Managed Services
Ultimate assists with your HR, payroll, benefits, and more—services tailored to your specific needs, to drive optimal business results.
Read more
Live UltiPro Web Demo:
HR and Payroll Solution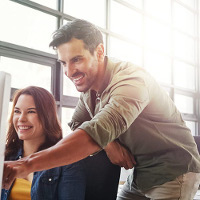 Watch an online demo of UltiPro, and discover the power of one solution, one provider, one place for all things people. HR, payroll, and talent management software for your workforce management needs.
Register Now