UltiPro® Launch
Customer expectations around support are constantly evolving, and Ultimate is continuously innovating to ensure customers are always the #1 priority.

UltiPro Launch provides customers with complete visibility into the entire go-live process from one, central location. This comprehensive transparency and additional risk management creates a more efficient, accurate, and enjoyable roll-out experience. UltiPro Launch leverages technology to improve collaboration and data integrity and accelerate time to live. As a result, you are able to spend more personalized time partnering with UltiPro experts.

UltiPro Launch offers:
A seamless and stress-free deployment experience
Simplified, secure handling of people data
Rapid, high-quality data conversions
Streamlined data staging and analysis
Reduced need for technical expertise and dependency on legacy vendor services
Complete visibility into the entire launch process through one, central location
Live UltiPro Web Demo:
HR and Payroll Solution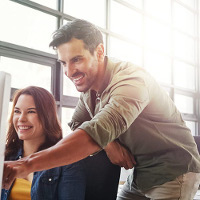 Watch an online demo of UltiPro, and discover the power of one solution, one provider, one place for all things people. HR, payroll, and talent management software for your workforce management needs.
Register Now