American College of Surgeons
Uses UltiPro to achieve time savings across HR processes
Key Benefits
Created a detailed applicant data report instantly to fulfill OFCCP requirements for an Affirmative Action Plan

Leveraged UltiPro Business Intelligence to quickly produce a required comprehensive benefits report

Saved time by giving employees access to their employee information through UltiPro's user-friendly interface
Overview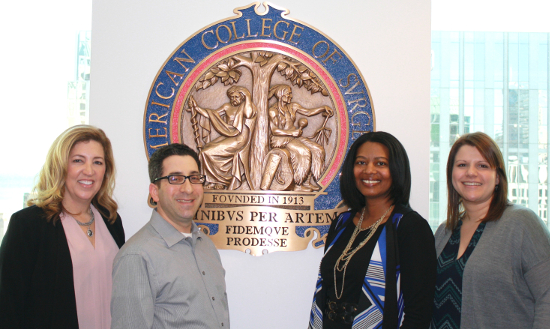 The American College of Surgeons (ACS), a scientific and educational organization of surgeons, was founded in 1913 to raise the standards of surgical practice and improve the quality of care for all surgical patients. ACS has more than 80,000 members and is the largest organization of surgeons in the world.
Generating time-efficient quality data
Challenges
Prior to UltiPro, the organization's HR processes were handled manually and required considerable time to administer and maintain. The association sought an HCM solution that would enable HR to transform itself from a transactional organization to a division that could focus on more strategic objectives.
Solutions
• Compliance Reporting: As a federal contractor, ACS is subject to Office of Federal Contract Compliance Programs (OFCCP) requirements for an Affirmative Action Plan (AAP). With UltiPro, ACS tightened applicant data procedures, further defined employee-change reasons, leveraged UltiPro Business Intelligence Report Studio, and learned advanced BI techniques, thus creating a detailed applicant data report. This report instantly delivers the properly formatted data so HR can complete the organization's AAP.

• Benefits Reporting: Each month, ACS is required to generate a report to verify plan participant and rate information for its life
insurance and disability plan vendor. With UltiPro, ACS is able to leverage BI reporting to combine existing plan and employee data sources into one, comprehensive report that takes only 15 minutes to generate and review.

• Direct Access: ACS has been able to activate business processes and workflows that provide employees with a convenient, self-service experience. Employees can access their employee information at any time through a user-friendly interface that expedites the review, updating, or extraction of personal information.
Results
• The new AAP compliance report has had a tremendous impact on the HR team's ability to generate time-efficient, quality data that has significant implications for the organization
• The company's benefits reporting yields more than a half-day of time savings each month, while letting HR validate plan information and accurately pay vendor bills.