UltiPro ACA Toolkit
UltiPro's cloud delivery and agile architecture enable Ultimate to make rapid and continuous enhancements to equip businesses with the right tools to manage the changing healthcare legislation. UltiPro's ACA Toolkit delivers everything you need to meet all requirements outlined by the Affordable Care Act (ACA) Employer Mandate. This includes required reporting and forms for the 2016 deadline.

The ACA Toolkit includes features such as:
Healthcare Eligibility Dashboard
Automatic generation of all lines of Forms 1094-C and 1095-C
Ability to obtain and track employees' electronic consents
Measurement period, administrative period, and stability period tracking
Pre-delivered reports for identifying Affordable Care Act (ACA) compliance
With UltiPro's ACA Toolkit, you can print or electronically distribute 1095-Cs to employees, as well as electronically file Forms 1094-C and 1095-C with the IRS.

Customers who prefer additional assistance in managing the reporting and filing can utilize UltiPro ACA Employer Services, with options available to meet your specific needs. As a certified and IRS-approved transmitter, Ultimate can electronically file ACA compliance documents on your behalf, enabling you to focus on more important, strategic initiatives.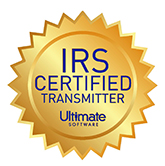 Ultimate Software is certified and IRS-approved to electronically file ACA compliance docs on behalf of our customers.