---
Do You REALLY Understand the Voice of Your Employees?
Register now to learn more at the 2017 SHRM Annual Conference & Exposition in New Orleans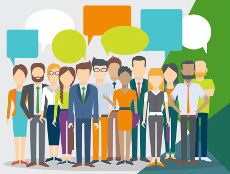 To create a great workplace culture and employee experience, organizations must understand both what employees are saying and how they feel.
Ultimate Software will be showcasing an exclusive demo of its employee survey and sentiment analysis solution, UltiPro Perception. Discover how UltiPro Perception helps you better collect, understand, and act on real-time employee feedback through advanced natural language processing (NLP) technology.
Join us
Monday, June 19th from 12:15pm to 12:45pm
for this exclusive event. Space is limited—complete the form to register now!
Visit Ultimate at Booth #2333.