Remote Work Research

Ultimate Software's 2019 Report on the State of Remote Work
At Ultimate Software, we focus on putting people first. All people—no matter where they work. Over the past few years, many of the companies we support have recognized the rise of the remote workforce, and we've seen some major shifts in terms of how employers are accommodating their ever-changing employee base. So, we wanted to know: Are remote workers, indeed, still being left behind, or have things changed? We surveyed 1,000 U.S. employees nationwide, all of whom work for companies that have a mix of remote and in-office employees. Is the new reality of remote work as bleak as once thought?
Remote Workers Aren't Just Surviving - They're Thriving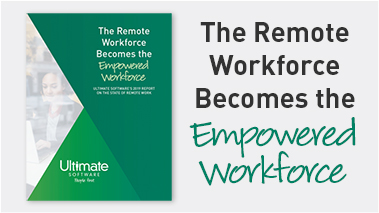 Remote workers, in many ways, are not just keeping up. They're thriving. In fact, there are a few ways in which remote workers seem to be pulling ahead. Download the full report to learn more.
Download Report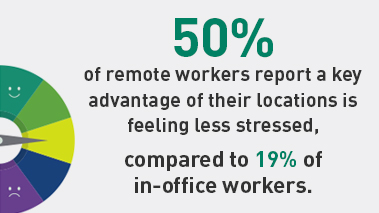 Did you know nearly a third (30%) of all employees are using technology platforms for giving and receiving feedback? Check out results like this and more from our remote work research study in our infographic.
Download Infographic