Interactive Tour:
10 Ways to Modernize Employee Training with UltiPro Learning
Are you providing the most effective learning opportunities to your workforce?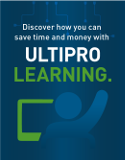 Spending hours and even days training in a classroom can be ineffective and overwhelming for your employees. With UltiPro® Learning, you can stay up to date with the latest in employee training technology and best practices to not only encourage professional development, but increase overall job satisfaction as well.

Modernizing employee training means more than just offering online classes that are convenient. It's about configuring learning experiences based on your organization's unique needs, and implementing the training that works best for your employees.

To learn more, simply fill out this form and we'll take you there!