UKG Pro Employee Pay
Ensuring that employees are paid accurately and on time is arguably the most important business processes for every company.

With UKG Pro™ Employee Pay (formerly UltiPro® Employee Pay), UKG takes on the burden associated with employee payments and the management of banking relationships—while still giving you complete visibility and control into the process. Transferring responsibility for remitting employee payments to our payroll experts will save you time and money, mitigate financial risks, and free leaders to focus on more strategic initiatives.

With UKG Pro Employee Pay, you get:
Increased visibility and control: View the overall status of employee payments, including alerts, notifications, and reports—and manage actions on those payments—via a modern, intuitive dashboard
An experienced partner: Our team leverages its banking relationships to process employees' payments, eliminating the burden and stress of payment reconciliations
Prompt pay processing: Close payroll in as little as two days prior to the scheduled pay date
Live UKG Pro Web Demo:
HR and Payroll Solutions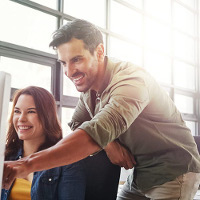 Watch an online demo of UKG Pro, and discover the power of one solution, one provider, one place for all things people. HR, payroll, and talent management software for your workforce management needs.
Register Now