A Guide on How to Make Big Data Work for You
We all hope we have a good grasp on our workforce. You know who your top performers are, who's willing to go the extra mile, and who is on their way out the door. Or do you?
In today's day and age, technology has given us more access to data and analytics than ever before. But how we use this data—and new technologies such as artificial intelligence (AI) and the Big Data that comes with it—can give us key insights into our workers and who they are as employees.
Read on to learn about employees Jake, Alyssa, Connor, and Melissa; how they act in the workplace and how you can use predictive analytics to get the most from your employees.


What is Predictive Analytics?
Predictive Analytics is the process of using multiple techniques to quickly analyze statistics through machine learning to help leverage your data and gather meaningful and unbiased metrics that can predict trends and future behavior.
Detecting Potential Flight Risks


Scenario
Jake has been with your organization for the past five years. He used to be one of your go-to employees, but recently you've noticed a change in his behavior. He's taking longer lunches, leaving early, and there are weeks where he doesn't leave his desk but no work seems to be getting done. Then there will be weeks where he'll be the socialite of the office and cause a huge distraction, negatively impacting productivity. When asked if everything is okay, he says everything is fine—yet you've noticed deadlines have been missed and the quality of work is decreasing.

You value Jake, and don't want to lose him. What should you do?
Solution
Look into an AI-powered tool that will help you track your employee's likelihood of staying with your organization, as well as steps you can take to increase engagement before it's too late.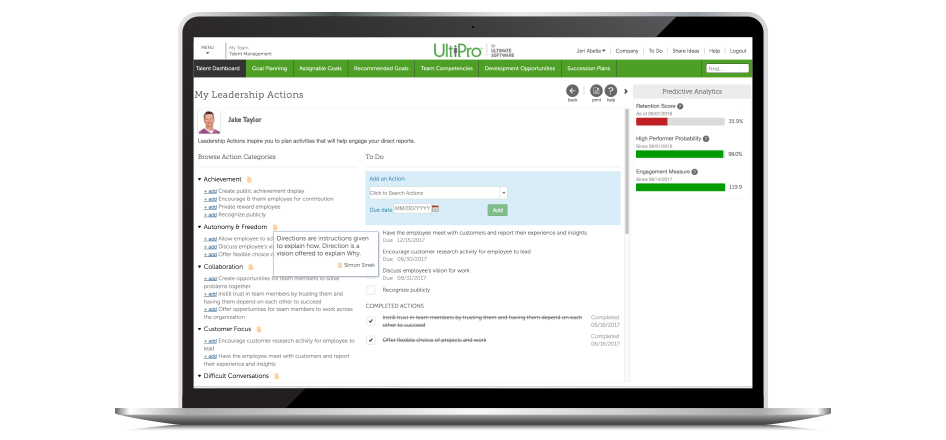 UltiPro Retention Predictor™ forecasts an employee's intent to stay or leave an organization within the next 12 months as a "retention score." Based off this score, you will be able to take action to help boost your employee's score to increase morale and engagement at work. The Retention Predictor uses an algorithm that pulls from a variety of factors to produce their score. These factors include:
Length of employment
Position
Job history
And more
The scores update monthly, and HR administrators and/or managers are notified when an employee falls below a certain score, ensuring you have the most up-to-date data. Plus, once enabled, scores will be calculated for every quarter all the way back to January 2008.

Leadership Actions provide guided advice and steps you can take to boost an employee's retention score. Employee scores are collected and reported using business intelligence (BI) to provide sophisticated analytics to management to help them continuously support their workforce with career development opportunities.

Recognizing Top Performers



Scenario
Alyssa has always been well-liked by her colleagues and consistently meets or exceeds her goals. You've been wanting to reward your top performers, and Alyssa is the first person that comes to mind. Before treating her to a reward, merit increase, or bonus, you want to verify she is one of your high performers.

What can you do to confirm your instincts?
Solution
Refer to your data-driven tool to track and determine her performance score, and possibly start mapping out a succession plan.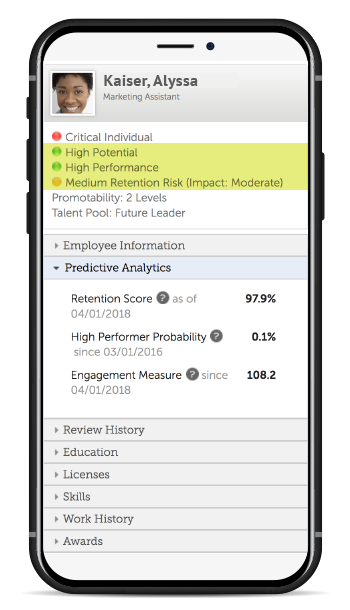 The UltiPro High Performer Indicator™ provides you with an instant view of who your top performers are to help you strategize a business plan. The insight from the High Performer Indicator can be used to build succession plans, create HR strategies, and help better support your employees' needs. These scores complement your annual performance reviews and give you a full picture of your employees.

Scores are generated monthly so you can stay informed on how your employees are developing. You can also use this data to create training programs and see where they best fit in your organization.


Investing in Your Employees

Scenario
Connor has been at your organization for the past six months. He's a little shy but everyone seems to get along with him just fine. His work seems to be consistently above that of his peers, but he hasn't been proactive about seeking new responsibilities. After talking to him a few times, you believe that he has the potential to grow into a management role one day.

You were thinking of suggesting a leadership course for him to join, but since spaces are limited, you want to make sure you're not stealing a spot from someone else. What should you do?
Solution
Using a tool powered by artificial intelligence, you can get an objective view to see if your employee has the potential to become a top performer in the near future. Using this data, you can invest in your employee to turn them into a high performer by suggesting talent development courses, expanding their areas of ownership, or just encouraging them to stay on the right track.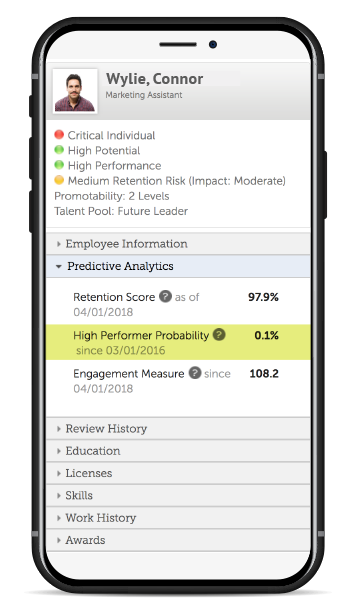 The UltiPro High Performer Predictor™ helps managers easily identify future top performers at their organization. Backed by data and analytics, the AI-powered algorithm ensures all employees receive an unbiased score on a monthly basis. It also calculates all previous scores on a quarterly basis going back as far as January 2008, to track how your employees have improved over time. These insights can help managers take action to turn their employees with potential into top performers. Managers can also look at low performers and take corrective action to put them on a path to success.




Keeping Engagement Levels High

Scenario
Melissa and her coworker Andy are constantly competing against each other to see who can sell the most of your product. While this may seem like a positive, friendly competition; they end up spending most of the day talking to each other and involving the entire office in silly bets. Melissa used to be consistently engaged and you're nervous her attention is more focused on her office friendships than her job.

How can you ensure that she remains highly engaged? Is Andy impacting her engagement level, and ultimately her job performance?
Solution
Using an AI-powered solution can give you a pulse check on an individuals' engagement level and how they compare to others on the team and throughout the company.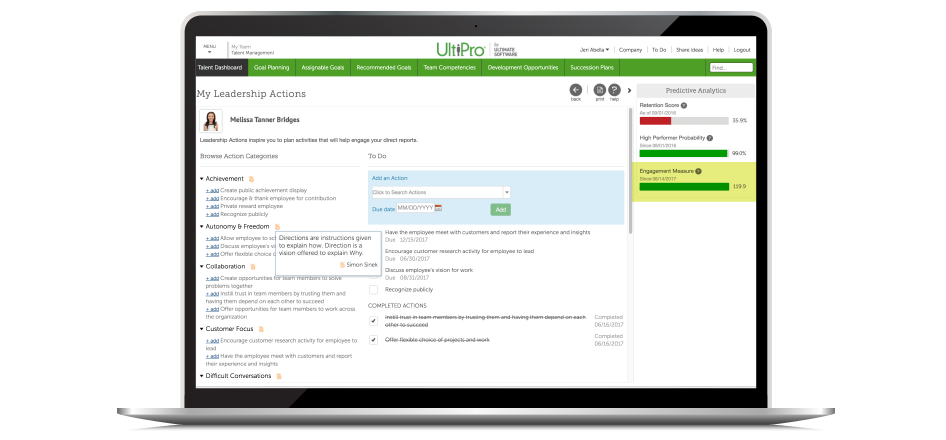 UltiPro Engagement Measure™determines an employee's engagement level relative to others in the organization. This tool offers the workforce insight you need to make decisions regarding your talent by leveraging your employee data, as well as actions to provide a clearer view of future behavior. This metric draws from a wide variety of criteria to estimate how engaged each individual is, especially if there have been any large changes in engagement compared to previous checks. Armed with this information, you can focus on how to improve your employee experience and increase overall business performance.
Making Sense of the Data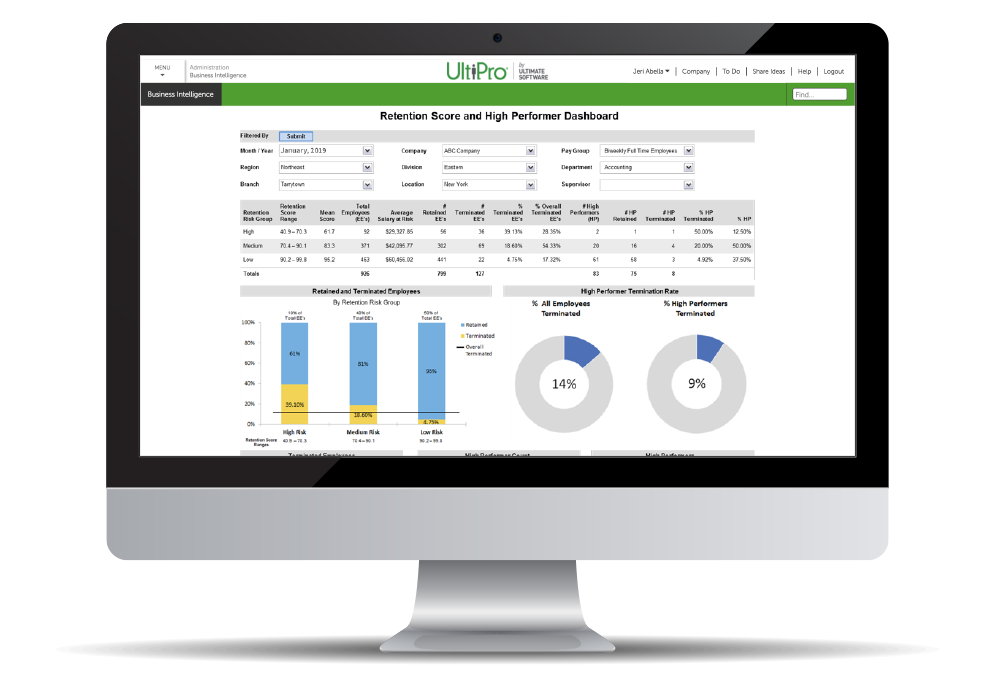 While all of these tools provide insight independent of each other, when working together they can give you and your management team a complete look at your employees so you can strategize about talent development plans, enhance the employee experience, and put your top performers where they are most needed. A robust business intelligence platform backs up all this information to help you identify the most important trends and deliver reports to the stakeholders who need them.
UltiPro's predictive analytics suite helps you make smarter talent decisions backed by unbiased data. UltiPro's Leadership Actions help managers retain and develop top talent. By providing recommended actions to coach and develop your team, you can boost retention and morale.
With millions of data points in the cloud, no one has time to sift and analyze it all. That's why our AI technology does it for you. Xander, Ultimate Software's artificial intelligence engine, analyzes tremendous amounts of data, including previous actions and outcomes to help predict your employees' behavior in the future. Managers can even receive alerts for prescriptive actions on the UltiPro Mobile App.
© 2020 Ultimate Software Group, Inc. All rights reserved. The information contained in this document is proprietary and confidential to The Ultimate Software Group, Inc. No part of this document may be reproduced or transmitted in any form or by any means, electronic or mechanical, including photocopying and recording, for any purpose without the express written permission of The Ultimate Software Group, Inc. No part of this document may be extracted and/or used out of the context of the full published document for any reason. This document is for informational purposes only and is subject to change without notice. Ultimate Software makes no warranties, express or implied, with respect to this document or any statements contained therein and specifically disclaims any warranties including but not limited to those for a particular purpose. This document contains or may contain statements of future direction concerning possible functionality for Ultimate Software's products and technology. Ultimate Software disclaims any express or implied commitment to deliver functionality or software unless or until actual shipment of the functionality or software occurs. UltiPro is a registered trademark of The Ultimate Software Group, Inc. All other trademarks referenced are the property of their respective owners.