New Report: Understanding the Final FLSA Overtime Rules and How to Prepare
Please complete the brief form to read this complimentary report.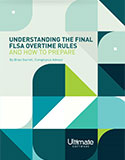 As a result of a ruling by the Department of Labor (DOL) on May 18th, 2016, many businesses may have to review or adjust their policies to comply with the Fair Labor Standards Act (FLSA) for the first time since 2004. These newest revisions to the FLSA are aimed at ensuring employees receive a fair wage for a day of work, and that qualifying employees (those earning below a certain weekly threshold) are eligible for overtime.

The December revisions update the wage thresholds and provide for additional adjustments every three years. Employers have already begun to evaluate the impact of these new regulations on their compliance needs and employee morale. Using our new report, discover how your organization will be affected and what measures you can take now to make the transition a smooth one.

Get the information your business needs to stay ahead of the rule changes.