On-Demand Webcast: Healthcare Reform 2013
What Employers Need to Do NOW!
Fill out the brief form to register for this
complimentary on-demand webcast that will answer employers' most pressing questions about the new Patient Protection and Affordable Care Act (PPACA).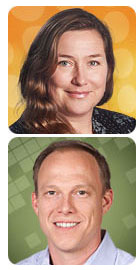 This exclusive, hour-long webcast presentation will help your organization prepare for health care reform in 2013. Featuring Ultimate Software HR and benefits experts, this on-demand webcast will help you navigate the extensive amount of information on new healthcare laws. The session also include time for Q & A.


Speakers
Cecile Alper-Leroux
Vice President of Product Strategy and Development at Ultimate Software
Responsible for defining and carrying out the global vision and strategy for Ultimate's human capital management solutions. Cecile has over 20 years of experience, both as an HR practitioner and with HRMS product strategy.

Pat Pickren
Sr. Director Product Management at Ultimate Software
Pat has more than 14 years experience building and delivering software in the HR technology space. He oversees the company's product management team responsible for Ultimate's most important product initiatives.