Busting the Myths of HCM Cloud Technology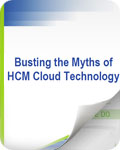 Fill out the brief form to read this
complimentary whitepaper.

The sheer number of cloud technology options on the market today is mind-boggling. Get the facts about what SaaS in the cloud will and won't do for your organization's workforce management by reading this no-cost whitepaper. You'll also uncover the truth behind some of the most prevalent myths about cloud computing.