HCM Whitepaper
Mastering People-Centric Recruiting:
The Conexus Approach to the Candidate Experience
Fill out the brief form to read this complimentary HCM recruiting guide.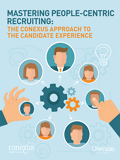 Are you leveraging your unique corporate culture in your recruiting? The benefits are too substantial to ignore.

Your business needs a people-centric recruiting strategy to get the right talent at the right time. Discover how Conexus Credit Union, one of the largest credit unions in Canada, has emphasized its core cultural values and honed in on the people who have the drive to make a meaningful difference in the lives of their customers and community.

Read the Conexus story in this guide to people-centric recruiting now.