---
On-Demand Webcast
People First, Before Strategy
Three Key Ways People Analytics Can Elevate Your HR Strategy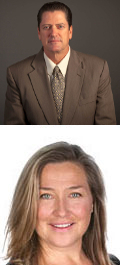 Analytics for HR is no longer a "new" idea, but many organizations still struggle with taking a more analytical approach to HR, talent and workforce management. In this session our speakers will discuss the three most important focus areas for HR analytics over the next few years: diagnosing problems, predicting outcomes, and prescribing actions on the people side. You'll learn to identify areas where HR technology can be used to tap into employee interests and concerns, predict potential outcomes, and take proactive measures to engage and retain your best talent and help your company achieve ultimate success.
Webcast Speakers
Gregg Paulk,
Director of Information Technologies,
at Anderson Center for Autism
Gregg is the Director of Information Technologies. He is responsible for the day-to-day oversight and coordination of all aspects of the IT Department. Under his direction, Anderson Center has deployed the latest network technology and cutting-edge computer systems including intelligent active whiteboards in every class, State of the art HRIS system and a state of the art video teleconference system. On behalf of Anderson Center for Autism he was named a Gold Medal Laureate award winner from Computer World in 2009 for implementing the award winning NEC HydraStor storage array.
Cecile Alper-Leroux,
Vice President of Human Capital Management (HCM) Innovation
at Ultimate Software
Cecile is an internationally sought-out speaker, thought leader, and visionary on HCM trends, hot topics, and global strategies who writes and speaks extensively on the changing worker and workforce. Passionate about people and technology in the workplace, Cecile has dedicated her life's work to helping companies design the best possible experience for people at work so they can achieve great things. A seasoned economic anthropologist, she loves uncovering micro-cultures within organizations and helping leaders and HR professionals effectively respond to evolving workplace dynamics, trends, and opportunities.