---
On-Demand HCM Webcast:
What It's Like to Work for a Gen X'er
Your next CEO will probably be a Gen X'er.
And, many of you are working for one right now!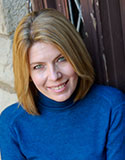 Generational differences impact every organization, including the often over-looked Generation X. In order to succeed, businesses are looking to understand the differences and capitalize on ways to have better collaboration between leaders and employees.
As Generation X moves into the highest leadership positions, focus is now turning to defining the Gen X leadership style.
This on-demand webcast will reveal the most critical aspects of the Gen X leadership style, covering how other generations can understand the Gen X approach with tips on successful partnering and collaboration.
Learn about:
The anatomy of the Gen X leader
Tips to working with Generation X
How engaged Gen X leaders will result in more engaged Gen Y and millennials
Partnering for future leadership
Fill out the brief form to register for this complimentary on-demand webcast.

Guest speaker:
Trish McFarlane CEO, H3 HR Advisors and HRevolutionize LLP
Trish McFarlane is a seasoned HR executive focused on the alignment of strategic business objectives and HR competencies by incorporating social media, marketing, internal communications and innovation. With more than a decade of experience in technology selection and implementation, McFarlane is committed to expanding the business scope of HR professionals as the realm of HR evolves.