Back to Human Capital Management Whitepapers Library
HCM Whitepaper:
Compliance for Federal Contractors
Fill out the brief form to learn more about the specific obligations and regulations for federal contractors and subcontractors.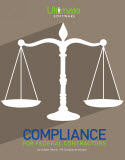 The Office of Federal Contract Compliance Programs (OFCCP) administers and enforces a variety of laws regarding the equal employment opportunity of federal contractors. OFCCP covers approximately 26 million employees, or 22 percent of the total workforce—if your organization employs any individual with a federal contract, you likely have employees under its jurisdiction.

Failure to comply with OFCCP regulations can lead to costly fines and even legal action. In this comprehensive analysis, we'll highlight some of the most important provisions affecting federal contractors including Executive Order 11246, the Vietnam Era Veterans' Readjustment Assistance Act of 1974 (VEVRAA) and more, as well as upcoming changes to federal law that may impact your business.