Back to Human Capital Management Whitepapers Library
HR Whitepaper:
Social-Powered Recruiting
Fill out the brief form and learn how to use social media to land your next job.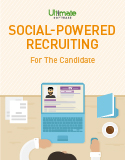 Looking for a job in this market can be tough. However, finding your future job may be easier than you think. Social media has influenced nearly everything we do, and the job hunt is no different. Many companies have taken to recruiting through LinkedIn, Facebook, and Twitter to find their next new hire. With over 90% of recruiters on these sites, itfs important to know how to use social media to your advantage and stand out from the crowd.

Discover how to leverage these sites to find your next job, and position yourself as a top candidate.