UltiPro Payroll - Webcast Demo
How Payroll with HR and Talent Management software can help your organization

Including: special guest customer speaker Brett Garlick, Director of HR Services at Progrexion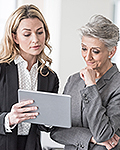 Ultimate Software's UltiPro® cloud solution delivers unified HR, payroll, and talent management backed by powerful analytics. UltiPro is powerful enough for the most complex pay calculations, flexible enough to fit any business, and simple enough to make managing and understanding payroll effortless.


In this 60-minute webcast, learn how payroll with UltiPro:
Simplifies year end reporting
Offers out-of-the-box compliance
Makes processing wage attachments easy
Offers a seamless user experience
Simplifies the global payroll process
Gives employees insight into potential pay changes
Enables employees to model their pay

Fill out the brief from to register for this payroll webcast demo.