---

Back to Human Capital Management Whitepapers Library
Virtual Employees:
An Employee Experience (EX) Case Study for Canada
Fill out the brief form to access this complimentary whitepaper.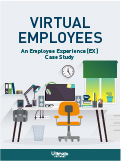 While the number of people working remotely is on the rise, the concept is still fairly new. As a result, best practices on how to do it right are still being established—evidenced by the current state of virtual employee engagement.
When designing an employee experience for your virtual workforce, it's important to remember that one size does not fit all. As with in-office employees, remote workers represent a bevy of various workstyles and personalities. We have conducted our own research in the format of a user experience (UX) case study to narrow down this variety into six unique virtual employee personas.
Download this whitepaper and learn how to keep your diverse mobile workforce engaged.