Payroll Whitepaper:
Top Ten Payroll Pitfalls—and How to Avoid Them
Fill out the brief form to read this complimentary guide.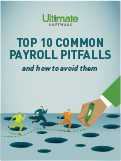 Read the guide that will help you knock out time-consuming and costly payroll errors.

Even small payroll mistakes can lead to big headaches—such as regulatory fines, penalties, and damaged employee relationships. But by following some simple best practices, you can easily avoid common slip-ups regarding compliance rules and regulations, taxable fringe benefits, year-end preparation, and much more!