HCM Whitepaper: Culture Casting
Discover how a new talent management technique can improve your culture.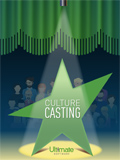 A culturally aligned workforce is a long road, requiring continuous reflection and iteration. How do you grow your corporate culture to where you want it to be? With culture taking center stage, new techniques and technologies are gaining ground that make the process of crafting and aligning company culture more straightforward and attainable. Culture casting is a new approach to evaluating your current business and honing in on the directions you want your company to go. This talent management guide will show you all the components of culture casting that reveal the current reality of your company and the actions you can take to further your corporate cultural growth.