Talent Management Whitepaper:
Social-Powered Recruiting
Fill out the brief form and learn how to integrate social elements into your recruitment process.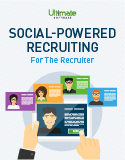 Between the large new generation of workers and rapid advances in cloud technology, recruitment is changing in many ways. Savvy businesses have begun to adapt with recruiting solutions that embrace the immense potential of social media for both recruiters and candidates. Many recruiters are already relying on social networking to some degree when filling open positions—but there is still plenty more to be done.

Learn how your organization can make better hires by leveraging gamification, persistence, mobile features and more to create a future-proof and social-oriented recruiting experience.

Discover how to leverage social media to find top talent while positively impacting your employer brand in this guide.