Back to Human Capital Management Whitepapers Library
Readying for the Revised EEO-1 Report
Fill out the brief form to read this complimentary HCM compliance guide.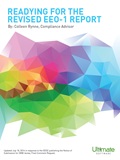 The Equal Opportunity Employment Commission (EEOC) has revised the provisions for its annual EEO-1 report. The EEO-1 report is an annual report submitted to the EEOC to support civil rights enforcement and identify trends regarding the representation of female and minority workers within companies, industries or regions. Some federal contractors also fall under its jurisdiction.

Generally, all employers with at least 100 employees are required to file the report. Changes are being made to the report's due date, the collection of pay data and the calculation of hours worked. To stay ahead of the curve, employers can check out our comprehensive guide to the changes.

Avoid potential compliance hazards with the EEOC by reading our guide today.