Profiles in Talent Flight Risk
Fill out the brief form to access the complimentary guide.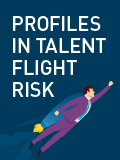 How well do you know the members of your workforce that are most in danger of leaving the organization?

Turnover is costly, both in terms of pure dollars for making a new hire and the knowledge transfer that consumes valuable bandwidth from your best talent. Our brand new Profiles in Talent Flight Risk identify six types of potential employee flight risks to help you analyze your workforce and discover which, if any, may be present.

These profiles will help you examine your most at-risk employees and be proactive about keeping them.