HR Whitepaper:
The CFO Role in Transition and the Impact on Human Resources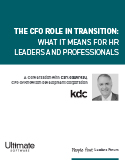 Today, the role of Chief Financial Officer (CFO) encompasses more than financial reporting and financing. It has expanded to include strategic, operational, and people management responsibilities. This change has ramifications for human resource (HR) leaders and professionals who collaborate with or support finance leaders.

Carl Gauvreau, CFO of contract manufacturer Knowlton Development Corporation (KDC), has witnessed the transition firsthand. In this exclusive interview, Gauvreau describes his responsibilities in shaping KDC's strategic direction and solving organizational challenges, which often stem from not having the right people in the right roles. Gauvreau explains KDC's approach and discusses how HR can most effectively partner with CFOs and the C-suite to drive strategic growth and change.

To read our interview with Gauvreau, complete the form.