---
Using UKG Giving to Give Back
An easy way for businesses to practice social responsibility.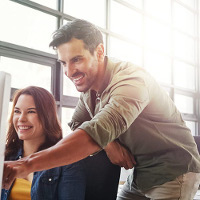 During this period of financial uncertainty, employees look to their employers to make a positive impact on their communities by practicing social responsibility. In fact, a survey of corporate philanthropy and employee engagement in 2018 found that 92% of surveyed companies offer at least one kind of gift matching program to their employees.

With UKG Giving, organizations can offer employees an easy and positive way to make a difference in their communities and around the world. Administrators can quickly set up and distribute campaigns, and employees can view available giving opportunities and select the ones they want to contribute to.

To learn more, please join us at 2 pm ET on December 10th for a demo of UKG Giving. You'll hear from Christina Goins, comp and benefits manager at Process Barron, a turnkey solutions provider specializing in air handling and materials handling equipment. She's currently using UKG Giving to support her workforce's philanthropic efforts and will talk about the impact the solution has had on employee engagement.

Unable to join the live demo? Register today for the webcast, and we'll send you a recorded version of the demonstration after it takes place. We look forward to helping your company be the difference it wishes to see in the world!