HR Whitepaper: Inspiring Employee Passion
to Drive Customer Retention
Fill out the brief form to read this complimentary whitepaper.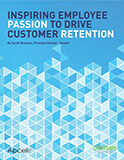 Inspiring passion in your people to drive customer retention doesn't have to be just a dream for your organization. Read this exclusive whitepaper by Sarah Brennan, founder and Principal Advisor at Accelir, and learn how you can begin engaging your employees in ways that truly resonate with their basic needs. You'll also take away five easy things that you can do at your organization right now to create and nurture a company culture that encourages employee and customer engagement.