Back to Human Capital Management Whitepapers Library
HR Management Guide:
10 More Ways to Wow Your New Hire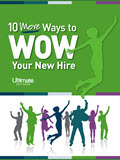 Fill out the brief form to read this complimentary guide.

Time to make your new employees say "wow" from day zero!

It's never too early to focus on engagement for your workforce. These best practices can help you harness the needed tools and plan ahead to craft an outstanding employee experience for your hires.

Download this guide for 10 simple steps to improve onboarding and performance management at your organization.