Back to Human Capital Management Whitepapers Library
Recruiting Report: Top Talent Acquisition Trends
Embracing personalization, big data, and more in your talent acquisition process can future-proof recruiting at your company.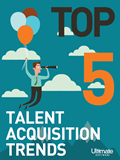 Talent fuels every facet of business. A company can have the right technology, the right infrastructure, the right products and services—yet still fall short of expectations without the right people. Attracting, recruiting, hiring, and engaging the right talent for the right job is what makes your enterprise grow.

Our guide examines five of the top talent acquisition trends in the market and demonstrates how your organization can immediately embrace these trends will assist in future-proofing recruitment.