Whitepaper: Improving the Candidate Experience
Fill out the brief form to access this complimentary guide.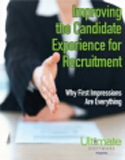 In today's job market, the pressure is on when it comes to planning for a positive candidate experience. Job seekers are more vocal than ever—openly posting their job search experiences throughout their social networks. Therefore a positive candidate experience can generate highly beneficial word-of-mouth, while a bad experience can damage your company's reputation and make others less likely to apply.

Read this guide to discover how you can provide a uniquely engaging recruitment experience while uncovering the best talent with the right skills.