Whitepaper:
Business Performance Toolkit for Retail
Learn how leading retailers are leveraging cloud-based, best-in-class people management today.

Please fill out the brief form to download our whitepaper.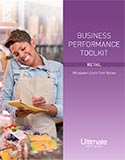 When it comes to managing your human capital, the retail industry holds a number of unique logistical challenges. Complex overtime and turnover scenarios, management of a large number of locations and stores, and integration with a variety of third-party solutions are just some of the issues that managers in the retail sphere address every day.

The complexity of these needs had led many leaders in the industry to adopt unified, comprehensive human capital management (HCM) for everything from payroll processing to advanced business analytics.

Discover these powerful real-world results, and learn how your organization can achieve the same significant business benefits.