Back to HCM Whitepapers Library
HCM Technology Whitepaper:
Business Performance Toolkit for Restaurants
Today's restaurant industry leaders are benefiting from streamlined human capital management (HCM) in the cloud.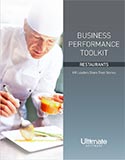 From high turnover rates to time-consuming compliance regulations, the food and beverage industry faces a variety of unique, complex needs. But with the fast-paced environment of the restaurant industry, no one has time for paper-laden processes and inefficient workflows. All-in-one cloud-based technology is revolutionizing the HCM space.

Best-in-class people management tools are changing the way HR and payroll leaders within the restaurant industry are seeing huge impacts by making the switch. Now, you can too. Discover how leading restaurants are transforming their HR and payroll processes through cloud-based HCM technology.