Whitepaper:
Business Performance Toolkit for Restaurants
Learn how today's restaurant industry is benefiting from streamlined HCM in the cloud.

Fill out the brief form to access the toolkit.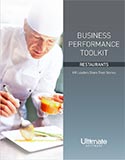 From catering to the needs of your customers to ensuring proper management for a huge variety of roles, restaurants rely on effective human capital management (HCM) to get the job done.

The food and beverage trade involves many unique workplace scenarios and can be more complex than the average business. However, almost all organizations—from small, local restaurants to large, national chains—share many of the same challenges such as high turnover rates and complications from seasonal hiring, evaluating labor cost versus sales, and more.

Download the toolkit to discover how leading restaurants are streamlining time-consuming HR processes and achieving peak HCM performance.