Back to HCM Whitepapers Library
HCM Solutions:
Business Performance Toolkit for Non-Profit Organizations
Enable streamlined operations to promote employee success with people management solutions.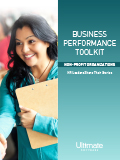 The non-profit industry is unique. Furthering any worthy cause involves an unparalleled degree of accountability, openness, and integrity in the workplace. This dedication often creates many challenges in the process. From requesting IRS approvals to accessing solicitation codes from local governments, and plenty of paperwork in between, non-profits face obstacles that are not found in any other industry.

These complex hurdles facilitate a different use of human capital management (HCM) solutions. Non-profit companies need comprehensive people management solutions that will work to streamline operations for them, so employees can focus on the organization's success. Hear about the numerous benefits of a best-in-class people management solution from organizations that have already made the switch.