Back to HCM Whitepapers Library
HCM Solutions Whitepaper:
Business Performance Toolkit for Manufacturing
Hear from leaders in the manufacturing industry on how comprehensive cloud-based human capital management (HCM) solutions are empowering their organizations.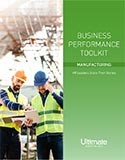 As technology continues to advance at an unprecedented pace, manufacturing leaders must stay on top of new breakthroughs and adapt their business plans rapidly. From compliance audits to administrative overhead, there is a substantive amount of unique challenges the manufacturing industry faces. The complexity of these challenges have caused many manufacturing giants to adopt a unified, comprehensive people management system.

A best-in-class cloud-based HCM solution can assist in streamlining processes to reduce overhead and save on costs. Several leaders have already made the switch and are witnessing revolutionary results. Discover how you can achieve these benefits, and more.