Whitepaper:
Business Performance Toolkit for Manufacturing
Leading manufacturers rely on cloud-based human capital management to grow.

Discover how by filling out the brief form to download this exclusive toolkit.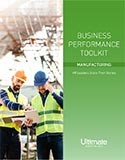 Manufacturing is the backbone of the global economy. As technology improves at an exponential rate, industry leaders must stay on top of new breakthroughs and adapt rapidly, while handling day-to-day challenges like overtime calculations, union compliance, managing multiple subsidiaries, a large variety of job codes, and more.

The complexity of these needs had led many leaders in the industry to adopt unified, comprehensive people management for everything from payroll processing to advanced business analytics.

Discover how you can achieve the same benefits these organizations have seen through boosted scalability, productivity, access and simplified compliance.