Back to HCM Whitepapers Library
HCM Solutions Whitepaper:
Business Performance Toolkit for Hospitality
Today's hospitality industry is harnessing comprehensive human capital management (HCM) solutions, are you?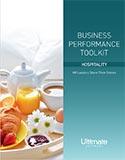 From seasonal hiring to complex, variable payroll needs, the hospitality industry faces several unique challenges that no other industry faces. Employing a human capital management solution that is comprehensive and continuously improving. Leading hotels and tourist destinations are achieving outstanding business results with better HCM by streamlining processes and keeping costs down.

Organizations in the hospitality sphere are uniquely poised to take advantage of the tools offered by comprehensive HCM. Discover how cloud-based human capital management empowers hospitality leaders to get the job done right.