Whitepaper:
Business Performance Toolkit for Hospitality
Learn how today's hospitality industry is harnessing comprehensive HCM in the cloud.

Fill out the brief form to access the toolkit.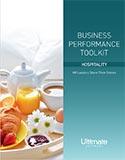 The hospitality and tourism industry faces a wide range of distinctive challenges. Hotels and other destinations must balance the needs of their guests and their balance sheets, all while contending with obstacles such as turnover and seasonal flux. Cloud-based human capital management (HCM) empowers these companies to get the job done right.

Organizations in the hospitality sphere are uniquely poised to take advantage of the tools offered by comprehensive HCM.

In this toolkit, discover how leading hotels and tourist destinations have achieved outstanding business results with better people management.