Whitepaper:
Business Performance Toolkit for Healthcare
Healthcare is one of the most highly regulated, compliance-heavy, and report-intensive industries in business.

Please fill out the brief form to download this exclusive toolkit.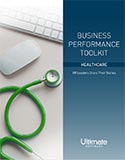 Learn how leading organizations in the industry are leveraging cloud-based, best-in-class people management to combat these challenges.

Healthcare organizations contend with complex issues such as multiple shift scheduling, constantly changing legal regulations, a high degree of reliance on interdepartmental communication, and the need for rapid time-to-hire for new employees, among others. Whether yours is a small non-profit agency or a provider serving thousands of patients daily, your workforce must overcome many of the same obstacles in order to be effective.

Discover how organizations like Covenant Retirement Communities, eClinicalWorks, and Healogics rely on comprehensive human capital management (HCM) to get the job done right.