Back to HCM Whitepapers Library
HCM Solutions Whitepaper:
Business Performance Toolkit for Healthcare
Healthcare is highly regulated and compliance-heavy, discover how cloud-based HCM can help improve your organization.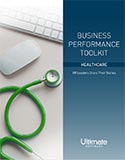 The healthcare industry is one of the most highly regulated and report-intensive industries out there. From multiple shift schedule to constantly changing legal regulations there is a lot to stay on top of. A unified, cloud-based human capital management solution can assist in streamlining processes as well as allow for easier onboarding.

Leaders in the healthcare industry have already transitioned to a comprehensive HCM solution and are seeing incredible results. Hear from multiple industry leaders to see how their workforce overcame unique healthcare industry obstacles, and how your workforce can experience similar results.