HCM Whitepaper:
Business Performance Toolkit for Finance & Insurance
Learn how a best-in-class HCM solution is helping organizations thrive in the finance and insurance industries.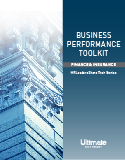 In an industry in which ROI and efficiency are crucial, finance and insurance organizations are finding that they can positively impact both areas by upgrading to a more comprehensive, cloud-based HCM solution. After making the switch, HR leaders within these industries are reporting seamless and effortlessly scalable maintenance of accurate and centralized people data.

In this toolkit, read first-hand accounts of how these finance and insurance leaders have achieved outstanding business results with better people management.

Fill out the brief form to access the toolkit.