Back to Human Capital Management Whitepapers Library
HCM Whitepaper:
6 Strategic Benefits of Upgrading HR Technology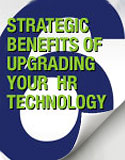 Fill out the brief form to read this
complimentary whitepaper.

HR is at the center of an organization's goals when it generates continuous innovation and excels at delighting its customers. With the right technology, HR can become the cornerstone of the 21st-century workplace—engaging the workplace; facilitating collaboration among its multifaceted multigenerational workforce; and strengthening the business for today and the future.