Back to Human Capital Management Whitepapers Library
HR Guide: 6 Steps to More Strategic Payroll
Fill out the brief form to the right to read this complimentary guide.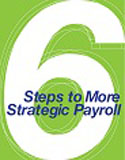 Tactical activities carried out by payroll consume resources, manpower and time that could be better spent advancing your company's strategic goals. At the same time, convoluted technology that gets in the way of payroll processing can translate to hundreds of hours of lost productivity and complications during tax season
and year-end.

In this easy-to-follow guide, learn some simple best practices that can free up your payroll professionals to tackle the big picture instead of getting bogged down by manual processes, duplicate data entry and inefficient workflows.

Don't let your payroll department be hamstrung by administrative tasks.