HCM eBook: How UltiPro® Delivers
Measurable Business Benefits
Explore five of the ways UltiPro delivers measurable business benefits to leading organizations like yours.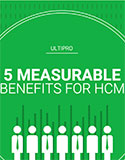 Human capital management (HCM) has a huge impact on business performance. For most organizations, investments in people are one of the top priorities. It's critical to manage employee expenses effectively and leverage the right HCM solution.
C-level executives across all industries are leveraging new payroll and HR technology and hard, meaningful data for tangible, strategic business benefits.


In this analysis, discover what UltiPro can offer your organization, including:


Rapid deployment
Faster ROI
Seamless, maintenance-free upgrades
Lower overhead and operating costs
More control with greater flexibility