HCM Whitepaper: 11 Questions to Ask About
Human Capital Management in the Cloud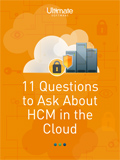 Fill out the brief form to read this complimentary whitepaper.

Moving an entire aspect of your organization's infrastructure to the cloud might seem like a daunting proposition. This paper will introduce several important questions HR and payroll professionals should ask when researching potential cloud providers for their organization's people management needs.

Use these must-ask questions and you can learn everything you need to know to make an informed, confident decision.