HR Management Guide:
10 Ways to Wow Your New Hire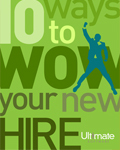 Fill out the brief form to read this
complimentary guide.

More and more, engagement, or lack thereof, is cited as a reason people leave jobs. How do you foster engagement and when does it start?

Discover how 10 new hire best practices can ease new employees' entry into your organization and help turn new hires into passionate, productive team players.

From onboarding to employee performance management, this guide can help your organization.