Back to Human Capital Management Whitepapers Library
10 Questions Every HCM Vendor Should Answer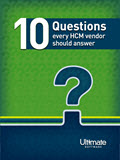 Fill out the brief form to read this complimentary checklist.

This must-have checklist will provide you with the most relevant questions to ask HR or payroll vendors to ensure you're getting the most out of your HCM solution.

Whether you're looking for a new HR/payroll vendor now or in the future—or if you just want to evaluate your
current vendor—you'll want this checklist.