Back to Human Capital Management Whitepapers Library
HCM Guide: Go Green, Save Green
Eco-friendly HR/payroll practices that save costs and the environment

Please complete the brief form to read this complimentary guide.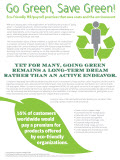 For many organizations, the prospect of going green still feels like a long-term dream, perpetually out of reach. But a paperless, cost-effective, eco-friendly future has never been more practical. The best place to start is your company's HR and payroll.

With more full-featured services available in the cloud than ever before and new, secure payroll practices all the way up to eliminating paper checks, now is the time for a green initiative at your organization. You'll experience increased efficiencies, fewer errors, and plenty of cost savings at every step along the way. You can even expect valuable long term benefits for your brand, as research shows that a majority of consumers would pay a premium to do business with eco-friendly organizations.

Our new, straightforward guide—tilted Go Green, Save Green—can put you on the path to a paperless future today.