HCM Whitepaper
Employee Engagement in Focus: A Big-Picture View of What Motivates Us in the Workplace
Fill out the brief form to read this complimentary whitepaper.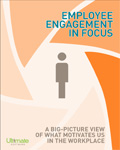 We've learned a lot since managers first began hearing the phrase "employee engagement." Many of the incentive programs and other short-term HR initiatives that were once cutting-edge motivational techniques have since been determined ineffective at creating lasting change. The time is right to craft a long-term human capital management strategy to genuinely engage your employees using the sense of purpose and self-direction they need.

Our new analysis puts you on the engagement path, starting with a holistic understanding of what employee engagement truly is and how it relates to the overall employee experience.